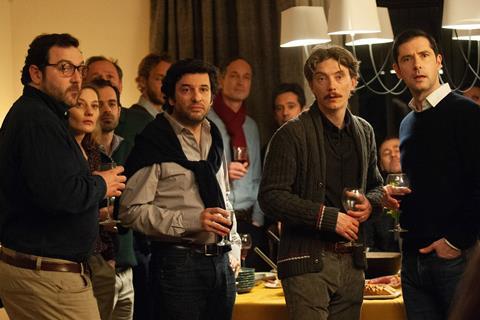 It was a tale of two markets at the EFM this year with sellers of blue-chip foreign-language fare and big US packages in an upbeat mood, while outfits handling smaller arthouse pictures toughed it out amid ongoing European theatrical woes.
mk2 Films head of sales Fionnuala Jamison was busy with Portrait Of A Lady On Fire, Arab Blues, and The Whistlers. She suggested the profile of foreign-language titles at the US box office driven by ROMA, Shoplifters, Cold War and Burning, combined with increased competition for US indie titles from the global platforms, was fuelling the trend.
"Independents are losing out to the multi-territory deals being done by the platforms, a development which gathered speed at Sundance," said Jamison.
Nicolas Brigaud-Robert of Playtime, which announced strong business on François Ozon's Golden Bear contender By The Grace Of God and Juliette Binoche social media dating drama Who You Think I Am, concurred. "Blue chip foreign-language films are replacing American indies," he said.
The theory was also borne out by Wild Bunch's bumper sales on Palme d'Or-winning Shoplifters director Hirokazu Kore-eda's The Truth.
"US distributors are more inclined to look at the quality of the filmmaker rather than the language," said Film Constellation chief Fabien Westerhoff. "There will still be a huge gap in terms of value but the mindset has shifted."
Westerhoff reported "robust business" on his Sundance title Premature and David Bowie picture Stardust, which was announced on the eve of the market. Stardust has sold very solidly to the tune of 30% of the budget here in EFM," he said. "Berlin has been a great start to the year for us. "
Among the big sellers out of the US were murder mystery Knives Out (Lionsgate International), sci-fi project Reminiscence (Film Nation), Voyagers (AGC International), Black Flies (IMR International) and Greenland (STX International).
The Exchange CEO Brian O'Shea reported a busy market with strong sales. He suggested that the company's varied slate appealing to a variety of markets and platforms was helping it ride the current market transitions.
"We've had a very good response to our screenings and done multiple deals on both titles," said O'Sheo, referring to The Corrupted and Biggest Little Farm.
Aside from continued popularity for action and sci-fi titles, O'Shea noted strong demand for "light, uplifting fare" in the vein of its upcoming Drew Barrymore-starring comedy romance The Stand In.
The other big news of the market was the Berlinale's decision to shift its dates later in the calendar to February 20-March 1 in 2020, in response to the Academy's decision to move forward the 92nd Oscars to February 9, 2020.
Chiming with many of the US attendees at the EFM said, O'Shea said he was pleased with the move because it created more of "a spread" between Berlin and Sundance. This year, a quirk of scheduling meant the events were separated by a mere week, much to the irritation of sales agents who had little time to prepare for the EFM after a trip to Park City. "I just came from Sundance… and it was exhausting," he said