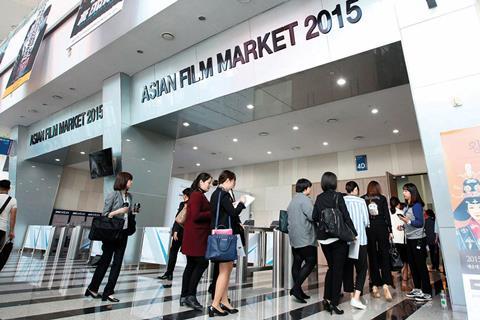 European Film Promotion (EFP) is backing 36 films at this year's Asian Film Market (Oct 14-17), which is held during the Busan Film Festival in South Korea.
Among the film's receiving sales and marketing support are two titles submitted for this year's foreign language film Oscar race – Picture Tree International's Men Don't Cry from Bosnia and Herzegovina and Playtime's BPM (Beats Per Minute) from France.
The company also organises the Europe! Umbrella event held during Busan, which acts as an important meeting point for European professionals during the Asian Film Market.
Seven companies and films are receiving sales support slate funding, which was previously announced before Toronto and saw them also attend that festival with EFP backing. They include Euthanizer, sold by Wide, and Winter Brothers, sold by New Europe Film Sales.
The initiatives have received backing from Creative Europe's MEDIA programme.
Film Sales Support Asian Film Market 2017:
| Film: English Title | Film's country of origin | Sales Company |
| --- | --- | --- |
| LIFE GUIDANCE | Austria | Picture Tree International |
| BITTER FLOWERS | Belgium, France | Loco Films |
| MEN DON'T CRY | Bosnia and Herzegovina | Picture Tree International |
| DARLING | Denmark | TrustNordisk Aps |
| DOG | France | Films Boutique |
| COBY | France | ALPHA VIOLET |
| RISE AND FALL OF A SMALL FILM COMPANY | France | Capricci Films |
| (GIRL)FRIEND | France | Le Pacte |
| THE TEACHER | France | Bac Films Distribution |
| BPM (BEATS PER MINUTE) | France | Films Distribution |
| SUPERLOVERS | France | Jour2fête |
| THE INSULT | France, Lebanon | INDIE SALES |
| I REMEMBER YOU | Iceland | TrustNordisk Aps |
| THE BREADWINNER | Ireland, Canada, Luxembourg | WestEnd Films |
| MANUEL | Italy | Le Pacte |
| NICO, 1988 | Italy | Celluloid Dreams |
| CHILDREN OF THE NIGHT | Italy | reel suspects |
| EQUILIBRIUM | Italy | Intramovies |
| WHERE THE SHADOWS FALL | Italy | Fandango |
| IN A LONELY PLACE | Italy | Summerside International | FB INVEST BV |
| FIRSTBORN | Latvia | reel suspects |
| THE LIBERATION OF SKOPJE | Macedonia, Finland, Croatia | Summerside International | FB INVEST BV |
| POROROCA | Romania, France | Wide |
| ABRACADABRA | Spain | Films Distribution |
| GOLD | Spain | Film Factory Entertainment, S.L. |
| HOLY CAMP! | SPAIN | Film Factory Entertainment, S.L |
| OPERATION GOLDENSHELL | Spain | CASTELAO PICTURES, S.L. |
| THE MOTIVE | Spain, Mexiko | CASTELAO PICTURES, S.L. |
| GOLIATH | Suisse | Wide |
Slate Funding Toronto/Asian Film Market:
| Film: English Title | Film's country of origin | Sales Company |
| --- | --- | --- |
| WINTER BROTHERS | Denmark, Iceland | New Europe Film Sales |
| EUTHANIZER | Finland | Wide |
| CUSTODY | France | Celluloid Dreams |
| GOOD LUCK | France, Germany | Stray Dogs |
| OBLIVION VERSES | France, Germany, The Netherlands, Chile | Urban Distribution International |
| THE SWAN | Iceland , Germany, Estonia | M-appeal world sales UG |
| NINA | Slovak Republic, Czech Republic | ALPHA VIOLET |