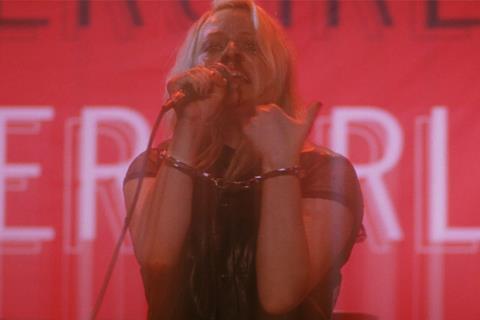 Los Angeles-based Gunpowder & Sky has picked up US rights to Her Smell starring Elisabeth Moss hot on the heels of the US premiere at the 56th New York Film Festival last weekend.
Alex Ross Perry's film received its world premiere at TIFF last month and charts the fall and rise of a 1990's riot grrrl. It marks the third collaboration between Moss and Perry after Queen Of Earth and Listen Up Philip.
Gunpowder & Sky plan a 2019 theatrical release and awards push for Moss as the fictional once-great punk rock star Becky Something as she grapples with motherhood, exhausted band mates, nervous record company executives, and a new generation of rising talent eager to usurp her stardom.
When Becky's chaos and excesses derail a recording session and national tour, she finds herself shunned, isolated and alone. Forced to sober up, battle her demons, and reckon with the past, she retreats from the spotlight and tries to recapture the creative inspiration that led her band to success.
The cast also includes Cara Delevingne, Dan Stevens, Agyness Deyn, Amber Heard, Gayle Rankin, Ashley Benson, Dylan Gelula, Virginia Madsen, and Eric Stoltz.
Bow and Arrow Entertainment and Faliro House Productions produced Her Smell, and the individual producers are Matthew Perniciaro, Michael Sherman, Adam Piotrowicz, Perry, and Moss. Christos V. Konstantakopoulos served as executive producer. Gunpowder & Sky brokered the deal with Endeavor Content on behalf of the filmmakers.
"I am so intensely proud of this film and of everyone involved who stretched themselves beyond where we'd ever gone before artistically," said Moss. "Having a home like Gunpowder & Sky is a perfect fit for the film and I'm really excited for people to go on this insane ride with us. It isn't for the faint of heart, but it is for movie-lovers and music lovers, and those who have ever had any experience with someone who was a tornado from whom they didn't want to run away."
"Having Elisabeth – one of the finest actors of our time – portray a female icon in the world of punk music, accompanied by some of the best young female actors, and directed by the visionary Alex Ross Perry is a dream come true for Gunpowder & Sky… and personally for my failed musician soul," said Van Toffler, CEO of Gunpowder & Sky.
"This is such a passionately powerful and unique story steeped inside the world of music – the emotional highs and lows – so it's a privilege for our studio, which is named after a song lyric, to bring Her Smell out to the world."