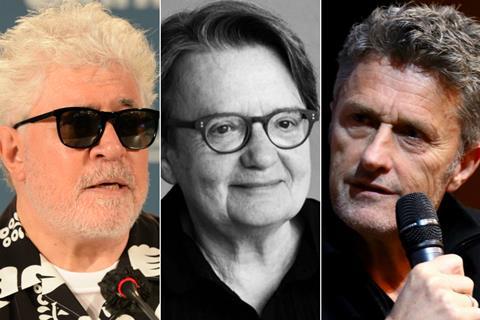 More than 500 film and TV professionals have signed an open letter calling for an "ambitious" implementation of the EU's AVMS Directive so that global streamers are bound by the same investment obligations as other players in the content chain, suggesting that at least 25% of their local turnover should be invested back into European productions, with 80% of that going to independently-produced works.
Filmmakers Pedro Almodovar, Pawel Pawlikowski, Rebecca Zlotowski and Agnieszka Holland were among the signatories who spanned the entire film and TV chain, including actors, producers and distributors.
The directive, which updates EU legislation around the audiovisual sector to fit the digital age, was adopted by the European Council in November 2018 and EU members were then given 21 months to transpose it into their national legislation.
The open letter, which was spearheaded by the European Producers Club (EPC), has been published as national negotiations for this transposition near their final stages across Europe's 27 member states. There are growing concerns within the European film and TV industry that many EU territories will water down recommendations around streamer obligations.
"We, all European audiovisual authors and producers, call for the European Commission and all EU Member States to level the playing field between all operators and enforce on the online platforms operating in our countries the same commitments towards European Culture that traditional broadcasters have been fulfilling," the letter read.
It suggested that the Covid-19 pandemic had further highlighted the need for a strong regulatory framework around investment obligations for online platforms.
"The global health crisis has taught us at least two things: first, that the audience's demand for visual stories has not diminished, and that the main beneficiaries of this continuing demand are, of course, online platforms. Secondly, the vulnerability of our local European audiovisual sector," it said.
"Strengthened by these lessons and animated by this European momentum, we call on member states to be ambitious in order to answer to the enormous needs of our sector. We call on imposing an investment obligation of at least 25% of the turnover of these platforms, with at least 80% reserved for independent production companies, and a majority for local language production, to be allocated into European films and TV series."
There is a particular focus within the European film and TV industry on how the directive will be implemented in France, where the government is expected to publish its recommendations in the coming days.
The expectation is that France will be the most ambitious territory in terms of the obligations its sets for global platforms. The signatories signalled their support for France's approach and called for their respective governments to follow the country's example.
"We fully and firmly support the position of French authors, directors and producers, considering that these findings should serve as an example of solutions for all EU countries.
Reaching this ambitious objective will enable our industry to be resilient and competitive, our ecosystem to flourish, our screen content to be as diverse as our different nations, and for the best and largest variety of content for our audiences."