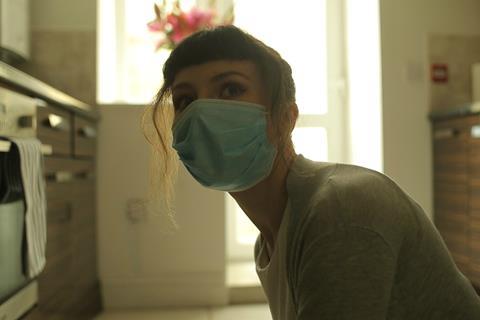 Altitude has boarded UK rights on Howard J. Ford's Lockdown Hauntings, a pandemic-themed horror produced by the UK's Evolution Pictures that is now in post.
The distributor is planning a theatrical release for the film around March 2021 to mark the anniversary of the first lockdown.
Lockdown Hauntings follows a notorious serial killer who recently died in prison, but is back from the dead and on the prowl for isolated young women during the Covid-19 lockdown.
The cast includes horror stalwart Tony Todd, who has previously appeared in the Candyman and Final Destination franchises, plus Angela Dixon, Heather Peace and Jon Campling.
Writer-director Ford's previous work in the horror genre includes features The Dead and The Dead 2: India, plus thriller Never Let Go. He recently wrapped shooting in Serbia on climbing thriller The Ledge starring Brittany Ashworth, for Evolution Pictures and Head Gear Films.
The film shot without Covid insurance, "We were taking the risk, and our financier Head Gear Films took that risk with us," Fred Hedman, CEO of Evolution Pictures and producer on Lockdown Hauntings, told Screen.
Busy 2021 slate
Evolution Pictures is a finance and genre production outfit allied to UK firm GFM Film Sales, which handles Evolution Pictures' worldwide sales as well as supporting the company financially.
The company has two further thrillers in the works. Geoff Clark's Frostbite is written by X Men: First Class writer Zack Stentz, and produced by Clark and Jeremy Ross. It is about a US tech billionaire and adventurer, who returns to Kathmandu to conquer Mount Everest. Strange events threaten to reveal the secrets from his previous trip to the mountain.
Additionally, Benjamin Johns' Jump, about a group of university students on an end-of-studies holiday, is in development, also financed by Head Gear. One of them is badly injured when they all jump from a cliff into the sea during a rave; the group seeks shelter, but soon realises they are not alone. Josefin Asplund, Eugene Simon and Brian Milligan are attached to star in the film which is hoping to shoot in Spain's Canary Islands in May-June next year. Director Johns is producing with Djonny Chen, from a script by Austin Rowlands.
The company is also hoping to shoot The Art Of Eight Limbs in 2021. It is the first in a four-picture slate of martial arts films with the Oscar-nominated US producer Shannon McIntosh's McIntosh FIlms. H Daniel Gross is producing with McIntosh.
Evolution Pictures also hopes to head into production in 2021 on neo-noir crime thriller Infidel, starring Alexander Dreymon. Written and directed by Leigh Marling and produced by Rory Rooney, the film will shoot at Pinewood Studios' base in the Dominican Republic.
"We're working to budgets between $1m to $4m, and it's much easier to put together a film right now in that budget range if banks and lenders are going to accept these Covid exclusions in production insurance and completion bonds," said Hedman. "We're following that blueprint where we can pre-sell the movie for about 50% of the production budget, because we're asking that much less from distributors because they're at a lower budget level, but they're still very high concept and commercial pieces."
"It's still an attractive proposition for distributors and working with lenders like Head Gear who will take the risk with us, without the full insurance," he suggested.