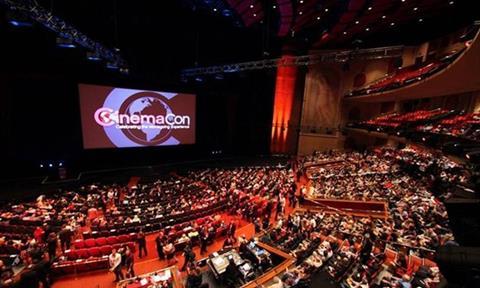 The heads of leading US exhibitors and National Association Of Theatre owners (NATO) top brass have issued a rallying cry ahead of CinemaCon as the fourth Covid wave gathers pace in the US and Disney sits out the show due to pandemic concerns.
With less than one month before NATO's conference is due to kick off in Las Vegas on August 23, every major studio and a number of distributors were set to present upcoming slates at the show besides Disney (and therefore Fox), and are monitoring the pandemic's trajectory on a daily basis.
NATO's executive board said in a letter that the convention was an opportunity for the industry to look to the future together. However the spread of the Delta variant – both in the US and internationally – at a time when half the country is not fully vaccinated has raised concern over the viability of the indoor event.
Yet the committee struck a defiant note as it counted down the days to the convention in Caesars Palace from August 23-26. The event was pushed from its traditional spring berth during the last Covid wave, and was cancelled last year.
According to the Centers for Disease Control, as of Wednesday 49.3% of the US population was fully vaccinated, while 57.1% have received at least one dose.
Attendees at this year's event will be required to wear masks and be either fully vaccinated or show a negative Covid test taken within 48 hours of collecting show credentials.
Disney might beam in a virtual presentation and is understood to be lining up a screening for CinemaCon delegates. At time of writing Shang-Chi And The Legend Of The Ten Rings was listed on the show's schedule for August 25.
The letter in full, signed by the heads of the three largest cinema circuits in the US, AMC, Cinemark and Regal owner Cineworld, appears below:
We are looking forward to seeing you at CinemaCon 2021. This edition of CinemaCon is very important to the movie theater industry and the larger movie industry as a whole.
With all of the challenges and stresses that we have all faced throughout the last 18 months, we could not have survived them if we did not face those challenges together. And CinemaCon will be the first opportunity for us to really be together as an industry, to express our gratitude and to look into our future. Together.
We are excited to know that we have presentations or screenings scheduled from 9 distributors, important panel discussions, and a robust trade show. We want you to know that as NATO's Executive Board, all 17 members will be in Las Vegas, as well as many of our employees, joining with representatives from hundreds of other NATO member movie theater companies of all sizes.
With a safe and successful convention as our highest priority, we remind you that all attendees at CinemaCon must be fully vaccinated, or receive a negative COVID-19 test within 48 hours of picking up credentials. Additionally, in line with CDC guidelines and mandates in Clark County, Nevada, issued earlier this week, all attendees will be required to wear masks in public spaces.
CinemaCon 2021 is 26 days away. We will see you there!
Rolando B. Rodriguez, Marcus Theatres Corp. (NATO Chairman)
Robert E. Bagby. B & B Theatres (NATO Vice Chairman)
Joseph Masher, Bow Tie Cinemas (NATO Treasurer)
John G. Vincent, Jr., Wellfleet Cinemas (NATO Secretary)
Adam M. Aron, AMC Entertainment Inc.
Bo Chambliss, Georgia Theatre Company
Eddy Duquenne, Kinepolis Group N.V.
Donald Fox, Fox Theatres LLC
Mooky Greidinger, Cineworld Group PLC
Daniel E. Harkins, Harkins Theatres
Ellis Jacob, Cineplex Entertainment Limited Partnership
Chris Johnson, Classic Cinemas
Ronald P. Krueger, II, VSS - Southern Theatres, LLC
J.D. Loeks, Celebration Cinema By Studio C
Joseph Paletta, III, Spotlight Theatres, Inc.
David O. Wright, Linway Plaza Cinemas
Mark Zoradi, Cinemark USA, Inc