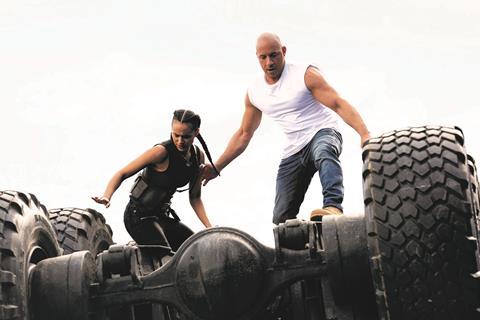 Industry sources predicted F9 would deliver a $150m-plus opening weekend from its first wave and the Universal tentpole appears to be on track as a $59.1m China opening day boosted the early international tally to $69.8m.
China's 380m RMB debut was the biggest Hollywood opening day of the pandemic and the second biggest of the pandemic by any film behind local juggernaut Detective Chinatown 3.
It also ranks as the third biggest opening for Universal Pictures International behind F8's opening Friday and F7's opening Sunday – both these films rank among the top three all-time highest grossing titles in China.
Prior to Friday's opening day in China, Wednesday and Thursday debuts from South Korea, Hong Kong, Russia and the Middle East brought F9 to a $10.7m running total.
Vin Diesel and friends generated $2.26m in the Middle East, where $995,000 in Saudi Arabia ranks as the biggest opening day of all-time and more than double other openings since the pandemic; while $930,000 in U.A.E. scored the biggest pandemic opening day.
Russia has delivered $2.7m including Wednesday previews of $1.4m that secured 82% market share and ranked as the fourth biggest Wednesday preview day of all time.
South Korea was the first market to receive F9 and as reported here previously, delivered $3.4m (3.9m KRW) for top franchise and pandemic opening days, and the third biggest opening day for the studio.
F9 also broke records in Hong Kong with Wednesday's $800,000 opening day. Claiming 80% market share, the film produced Universal's biggest ever opening day in the market, and the biggest single day of 2020 and 2021 to date.
F9 releases will continue its rollout in 62 international markets after the first wave, with major markets including Australia on June 17, Latin America, the UK and North America on June 25, with Spain, France, and Germany to roll out throughout July.
Justin Lin directs his fifth instalment and the cast includes Michelle Rodriguez, Tyrese Gibson, Charlize Theron, Jordana Brewster, Ludacris, and series newcomer John Cena.