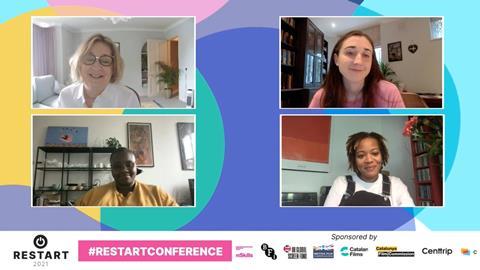 Film and TV productions should have lines in the budget for mental health services and childcare provision, according to a panel of emerging producers.
"On Boxing Day [Aml Ameen's debut feature which shot in December 2020] we had a wellbeing practitioner," said producer Joy Gharoro-Akpojotor, who produced Rapman's debut feature Blue Story in 2019. "This is somebody available who is independent from us – if you were struggling, you could book a session.
"We covered it – it was a little line in the budget, we could get 10-15 sessions out of it," she added. "You can go back to that person throughout the shoot. We don't have to know about it, it's just between you and them."
Gharoro-Akpojotor was speaking on the 'Breaking Through' panel chaired by Screen's chief film critic and reviews editor Finn Halligan, as part of the Restart Conference hosted by Screen.
Rienkje Attoh, who is producing Sarmad Masud's series You Don't Know Me for the BBC which shot earlier this year, recommended a change in ethos on sets to improve mental wellbeing.
"I don't like people to be stressing out. It's not the end of the universe, it's playtime," said Attoh. "Obviously do the work, but don't be killing yourself."
Discussing the process on You Don't Know Me, Attoh said, "It was always about: if you need to take the time, just take the time. No problem, nothing is going to end here. We've all got your back; amazing teams will cover you. Just let us know – just communicate if you have any issues. Having an open-door policy is really important."
The panel also discussed how the past year has changed mindsets for time off set too. "It's taking time to care for yourself a bit more coming out of this, and not feeling the need to work so much," said Gharoro-Akpojotor. "Just like, 'You know what, I'm going to log off at 4pm today, and it's OK. I'm not going to feel bad about it, and I'll be back tomorrow and continue.'"
Both Attoh and Gharoro-Akpojotor said they use meditation to help their own mental wellbeing.
Protecting boundaries
Helen Simmons, producer at Erebus Pictures, recently completed production on Neil Maskell's directorial debut Klokkenluider starring Jenna Coleman and Tom Burke, which filmed in February and March.
"For me it's been about protecting my time and boundaries," said Simmons of lessons learnt from the last 14 months. "Before the pandemic I was not very good at that; I would always say 'yes' to something out of guilt. Then you end up rushing around, always feeling frantic and guilty. In the past year-and-a-half I've been really good at saying, 'What is the most important use of my time in the week?'.
"That comes down to only saying yes to projects that I'm passionate about; only taking meetings that feel like they're important. Zoom means happily not travelling around all the time, but equally, now that things are coming back, thinking, 'What's going to be a lovely hour-and-a-half meeting that's going to replenish you?'"
Attoh said she has used the time to refocus her slate, including removing projects – "eliminating things that I've had on my slate that, in this day and age, are probably not going to go anywhere.
"Especially if you're pivoting between independent film and TV: independent film takes centuries to actually show itself. This time has helped to focus on, 'What is it that I really want to do now? Let me put all my energy in that.'"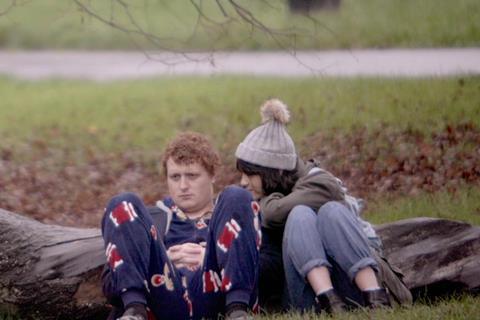 While Simmons has previously made comedies Chubby Funny and Say Your Prayers, Klokkenluider was a first feature for Erebus Pictures, which she runs with producing partner Stephanie Aspin.
The cast and crew of 40 people isolated for six weeks including the three-week shoot, using a "two-bubble system" through which those who were in the group could not leave, with external crew providing provisions for those inside the bubble.
Simmons' two young children and director Maskell's son were included in the group; she believes childcare provision on sets must improve.
"We tried to make sure that it felt like an inclusive space," said the producer. "We did portion a little bit of the budget to childcare – that would be something I would like to make a priority.
"I was lucky that my husband could come along with our kids; we had a nanny come along for the director's son, so we were only paying for her," she continued. "As a producer you can have a good balance between when you're away on a job and when you're at home. It's more the HODs, who are constantly away and doing long days – how do they manage that with a family?"
Simmons highlighted the good work done by organisations like WonderWorks and Raising Films, but noted there is resistance from some in the industry. "It feels like people are a bit reticent to put that line in [the budget] – it's seen as 'that's your problem'.
"The problem is, that always becomes women's problem, and then they have to just withdraw, or it really harms their career progression."
Individual stories
Discussing the resurgence of the Black Lives Matter movement over the past year, the panellists – all three of whom are former Screen Stars of Tomorrow – said it has broadened the understanding of different perspectives.
"People realise what we're dealing with constantly, day in and day out," said Attoh. "We always have to work so much harder. We want to share our stories.
"And there are so many different stories – there's not just the slave narrative that we're so used to seeing. There are so many individual stories that need to be told; they need the time, support and funding to be told."
"People are more interested in how they can push boundaries," added Gharoro-Akpojotor. "What's happened over the last year has shown that people have voices. Whether it's on Twitter, on Black Twitter, wherever it is – people are always talking. People are recognising that more, especially in the industry – we have to be more open in the kind of stories we're telling."