Takeshi Kitano's Ryuzo and the Seven Henchmen, Sonny Mallhi's Anguish, Ringo Lam's Wild City and Miguel Angel Vivas' Extinction among titles playing at Montreal's genre film festival.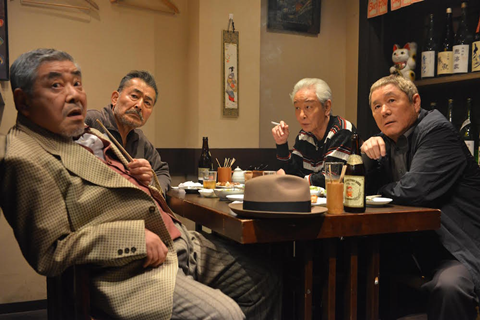 Fantasia International Film Festival has unveiled the second wave of titles for its upcoming 19th edition, taking place in Montreal from July 14-Aug 4.
Takeshi Kitano's Ryuzo and the Seven Henchmen will receive its international premiere at this year's event, while the festival will also host the world premieres of Sonny Mallhi's Anguish, David Keating's Cherry Tree, Jacob Gentry's Synchronicity, Victor Zarcoff's Slumlord and Bite from Chad Archibald and the team behind Anti-Social.
The world premiere of Miguel Angel Vivas' English language debut Extinction headlines a heightened focus on Spanish cinema at this year's Fantasia, with other titles including Marshland and Shrew's Nest.
Other notable titles in the second wave include Gilles Paquet-Brenner's adaptation of Gillian Flynn's Dark Places, Ringo Lam's Wild City, Rachael Moriarty & Peter Murphy's debut feature Traders, Corin Hardy's The Hallow, Karyn Kusama's The Invitation, Ted Geoghegan's We Are Still Here and Kenneth Kainz's The Shamer's Daughter.
The first special event of this year's festival will focus on Wakaliwood, DIY cinema from Uganda. As part of the focus, Fantasia will screen Uganda's first action film Who Killed Captain Alex? and a selection of clips from never-before-seen new films.
As announced last month, this year's festival will open with Keiichi Hara's Miss Hokusai, with Marvel Studios' latest outing Ant-Man also showing on the opening day.
The festival will also hold the sixth edition of genre co-production market Frontières which revealed its full project line-up yesterday [June 10].
Fantasia's full line-up of screenings and events will be announced on July 7. For more information, visit the festival's website.
Full list of second wave titles
WP - World Premiere; IP - International Premiere; NAP - North American Premiere; CP - Canadian Premiere; QP - Quebec Premiere; MP - Montreal Premiere
Anguish (WP)
Dir: Sonny Mallhi
Ava's Possessions (CP)
Dir: Jordan Galland
Bite (WP)
Dir: Chad Archibald
Børning (NAP)
Dir: Hallvard Bræin
Bridgend (CP)
Dir: Jeppe Rønde
Bunny the Killer Thing (NAP)
Dir: Joonas Makkonen
Cherry Tree (WP)
Dir: David Keating
Cop Car (CP)
Dir: Jon Watts
Crimson Whale (CP)
Dir: Park Hye-mi
Cruel (CP)
Dir : Eric Cherrière
The Dark Below (WP)
Dir: Douglas Schulze
Dark Places (Special Screening)
Dir: Gilles Paquet-Brenner
Director's Commentary - Terror of Frankenstein (IP)
Dir : Tim Kirk
Extinction (WP)
Dir: Miguel Angel Vivas
German Angst (NAP)
Dir: Jörg Buttgereit, Michal Kosakowski, and Andreas Marschall
H. (CP)
Dir : Rania Attieh & Daniel Garcia
The Hallow (CP)
Dir: Corin Hardy
Haruko's Paranormal Laboratory (CP)
Dir: Lisa Takeba
He Never Died (IP)
Dir: Jason Krawczyk
Hostile (IP)
Dir: Nathan Ambrosioni
The Invitation (CP)
Dir: Karyn Kusama
Ju-On: The Final Curse (IP)
Dir: Masayuki Ochiai
Manson Family Vacation (CP)
Dir: J. Davis
Marshland (QP)
Dir: Alberto Rodriguez
The Master Plan (NAP)
Dir: Alain Darborg
Meathead Goes Hog Wild (WP)
Dirs: Kevin Cline, Zach Harris, and Sean Pierce
Monty Python: The Meaning of Live (QP)
Dir: Roger Graef and James Rogan
Mortadelo & Filemon: Mission Implausible (NAP)
Dir: Javier Fesser
The Nutcracker 3D (NAP)
Dir: Sebastian Masuda
Ojuju (CP)
Dir: C.J. 'Fiery' Obasi
On the White Planet (CP)
Dir: Hur Bum-wook
Remake, Remix, Rip-Off: About Copy Culture & Turkish Pop Cinema (NAP)
Dir: Cem Kaya
The Royal Tailor (CP)
Dir: Lee Won-suk
Ryuzo and the Seven Henchmen (IP)
Dir: Takeshi Kitano
Scherzo Diabolico (CP)
Dir: Adrián García Bogliano
The Shamer's Daughter (IP)
Dir: Kenneth Kainz
She Who Must Burn (WP)
Dir: Larry Kent
Shrew's Nest (QP)
Dirs: Esteban Roel and Juan Fernando Andrés
Slumlord (WP)
Dir: Victor Zarcoff
Socialphobia (QP)
Dir: Hong Seok-jae
Some Kind of Hate (CP)
Dir: Adam Egypt Mortimer
Synchronicity (WP)
Dir: Jacob Gentry
The Taking (IP)
Dir: Dominic Brunt
Therapy for a Vampire (CP)
Dir: David Rühm
Torrente, Mission Eurovegas (NAP)
Dir: Santiago Segura
Traders (IP)
Dirs: Rachael Moriarty and Peter Murphy
We Are Still Here (CP)
Dir: Ted Geoghegan
Who Killed Captain Alex? (WP)
Dir: Nabwana IGG
Wild City (CP)
Dir: Ringo Lam
Wonderful World End (CP)
Dir: Daigo Matsui