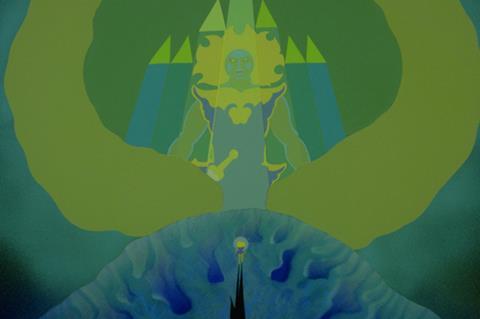 Ahead of its world premiere at Fantasia Film Festival in Montreal, a restored version of Hungarian psychedelic animation Son Of The White Mare has landed at Arbelos Films.
The distributor has acquired North, Central, and South American rights to Marcell Jankovics' cult film, set to screen at Fantasia on July 29. The quest story takes place in a mythological setting as three brothers led by Treehshaker set out to save the universe by destroying dragons attached to a huge oak tree at the gates of the underworld. The film first came out in 1981.
Jankovics directed the animated feature Johnny Corncob in 1973, and earned a best animated short film Oscar nomination in 1976 for Sisyphus. He won the Cannes Palme d'Or in 1977 for his animated short Fight.
Arbelos Films – best known for Dennis Hopper's The Last Movie, Andrew Bujalski's Mutual Appreciation, and animation Belladonna Of Sadness – oversaw the 4K restoration from the original 35mm negative with the Hungarian National Film Fund - Film Archive and Film Lab.
After the Fantasia screening, the film will go on an international festival tour and is being lined up for theatrical release in the US in early 2020, followed by digital and special edition blu-ray release.
"Son Of The White Mare has been my most successful film abroad," said Jankovics. "It was originally meant to be a Hungarian folktale, but it owed its success not only to this, but also to its psychedelic color scheme and esoteric music. István Vajda's score also referred to Tibetan lamas – which came into vogue at the time. This is also one of the reasons why my movie is often mentioned in connection with The Beatles' Yellow Submarine.
"Many have asked whether I had used any psychoactive substances while creating it. I'm very happy about this shared restoration project and the US distribution, which is a rebirth of the film. During the restoration process, I have been watching it like I would have as a child."
"Son Of The White Mare is one of the most stunningly beautiful and surreal movies I've ever seen, and a major discovery for animation and art house film fans," says Arbelos co-CEO David Marriott. "We're thrilled to be world premiering the restoration at Fantasia and proud that our innovative partnership with the Hungarian National Film Fund-Film Archive will allow us to introduce this remarkable film to a whole new generation of fans."
"We are extremely happy that North American audiences will have a chance to discover or rediscover this Hungarian animation masterpiece," said György Ráduly, director of Hungarian National Film Fund - Film Archive. "The primary goal of the Hungarian National Film Fund - Film Archive is the preservation and sharing of the Hungarian film heritage.
"One key element of this is the digital restorations [and] that is why the 10 years National Digital Film Restoration Program was announced in 2017. The Film Archive digitizes and restores 25 films on a yearly basis. However, a film without an audience is 'merely' a work of art sitting in a film vault, so we make every effort to present them in various ways, including their 'natural environment', projected on the big screen."