Two hot TV projects, an environmental zombie and an unhinged park ranger were among highlights at the eighth edition of the horror market.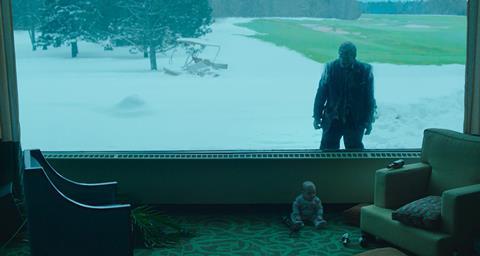 Frontières International Co-Production Market continued to showcase its growth at Fantasia International Film Festival as it kicked off its eighth edition on Thursday [July 21].
Earlier this year, the genre market announced a new partnership with the Marché du Film at Cannes, and the popularity of its pitching session at Fantasia meant that it moved to the festival's bigger venue to accommodate the growing industry interest.
This edition's 20 projects also saw the market's remit expand to include two television projects for the first time.
House Of Psychotic Women from Rook Films, behind the likes of Ben Wheatley's Sightseers and Peter Strickland's The Duke Of Burgundy, is based on horror critic Kier-La Janisse's acclaimed memoir.
Centred on 15-year-old Carly as she navigates Winnipeg's child welfare system, each episode will see a different director utilise a horror film, such as the Sean Hogan's pilot episode using The Brood, to shape Carly's perception of her past events that led her to her current situation.
Untold Horror is shaping up to be a fascinating insight into the genre films we never got to see, as well as exploring the possibility of them ever being resurrected.
Its eight episodes will see Rue Morgue editor-in-chief Dave Alexander interview icons such as George Romero, John Landis and Guillermo del Toro. The show will investigate topics including the on-going saga to remake Creature From The Black Lagoon and del Toro's passion project At The Mountains Of Madness.
Film highlights
Alongside this year's TV projects, there was the usual broad range of genre films that tackle well-worn tropes with a fresh spin.
Brain Freeze, from writer-director Julien Knafo and producer Barbara Shrier, takes an environmental spin on a zombie apocalypse and melted hearts with an auspicious proof of concept which saw a baby crawl around an abandoned golf course, oblivious to the zombie lurking outside.
Also on the zombie front, Bonita Drake and Johan Bromander's Stockholm Zombies is produced by David Ball, who worked on the likes of Day Of The Dead and Creepshow 2. A zom-com in the vein of Shaun Of The Dead, it sees a mismatched pair set out to find a morning-after pill, all the while chased by zombies.
And if you're after a different take on a spirit medium, Ben Steiner's The Stomach will expand his award-winning, critically acclaimed short of the same name into a feature. It already has a strong team behind it, including Kill List editor Rob Hill and SFX supervisor Dan Martin, who worked on the short and several Ben Wheatley films.
Other highlights included Dominik Hartl's Dark Compass, centred on a Bear Grylls-esque reality survival TV host who finds himself stalked by something in Inuit territory, and Yedidya Gorsetman's Room Service which will blend an 80s thriller vibe with a classic ordinary-guy-versus-invaders set-up, as a front desk clerk runs afoul of three thieves while he's trapped in this hotel by a blizzard.
Notable genre names were also among those pitching their latest projects at this edition of Frontières, such as My Bloody Valentine director George Mihalka with suspense thriller Head Smashed In Buffalo Jump.
Prolific genre producers Glass Eye Pix showcased The Ranger, the feature directorial debut from Jenn Wexler about a teen punks who come across an "unhinged park ranger with an axe to grind", while Jeruzalem's Paz Brothers and Southbound's Roxanne Benjamin pitched sci-fi horror Mars Camp and 80s-set reverse home invasion slasher We Summon The Darkness, respectively.
Frontières continues until Sunday [July 24] and will also feature a spotlight on emerging filmmakers and producers from Australia and South Africa, as well as a case study focusing on SpectreVision and Ubisoft's upcoming genre-based virtual reality experience.