Genre festival to open with Jacky in the Kingdom of Women [pictured]; other titles include Guardians of the Galaxy, Boyhood, The Harvest and Suburban Gothic.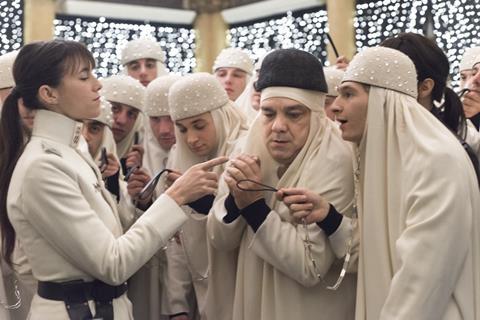 Riad Sattouf's Jacky in the Kingdom of Women will receive its Canadian premiere as the opening film of this year's Fantasia International Film Festival.
The Montreal-based genre festival runs July 17-Aug 5 and has also announced it will hold a special screening of Guardians of the Galaxy.
Other first wave announcements include six world premieres: Leo Gabriadze's Cybernatural; Jean Luc Herbulot's Dealer; Aik Karapetian's The Man in the Orange Jacket; Sarah Adina Smith's The Midnight Swim; Dan Bush's The Reconstruction of William Zero; and Richard Bates Jr's Suburban Gothic.
Fantasia has also announced six international premieres, including John McNaughton's The Harvest and Park Jae-hyun's The Huntresses, and ten Canadian premieres such as The Mo Brothers' Killers and Mike Cahill's I Origins.
Richard Linklater's critically acclaimed Boyhood will launch the fifth edition of the festival's Camera Lucida section.
Japanese director Mamoru Oshii will be presented with the festival's lifetime achievement award on the opening night, followed by a screening of the new HD master of Ghost in the Shell.
This year's poster has been designed by award-winning Quebec illustrator Donald Caron, and pays tribute to Ray Harryhausen, Ray Bradbury and Forrest J. Ackerman.
The full line-up of screenings and events for this year's Fantasia will be announced on July 10.
First wave in full
Among the Living (France) CP
Dirs: Alexandre Bustillo, Julien Maury
Angry Video Game Nerd: The Movie (US) IP
Dirs: Kevin Finn, James D. Rolfe
Boyhood (US) QP
Dir: Richard Linklater
Bros Before Hos (Netherlands) IP
Dirs: Steffen Haars, Flip Van der Kuil
Cybernatural (US) WP
Dir: Leo Gabriadze
Crows Explode (Japan) NAP
Dir: Toshiaki Toyoda
Dealer (France) WP
Dir: Jean Luc Herbulot
Ghost in the Shell (Japan)
Dir: Mamoru Oshii
Giovanni's Island (Japan) CP
Dir: Mizuho Nishikubo
Guardians of the Galaxy (US)
Dir: James Gunn
The Harvest (US) IP
Dir: John McNaughton
Han Gong-ju (South Korea) CP
Dir: Lee Su-jin
The Huntresses (South Korea) IP
Dir: Park Jae-hyun
I Origins (US) CP
Dir: Mike Cahill
Into the Storm (US) QP
Dir: Steven Quayle
Jacky in the Kingdom of Women (France) CP
Dir: Riad Sattouf
Killers (Indonesia/Japan) CP
Dir: The Mo Brothers
Kite (US/Mexico) IP
Dir: Ralph Ziman
Live (Japan) NAP
Dir: Noboru Iguchi
The Man in the Orange Jacket (Latvia) WP
Dir: Aik Karapetian
The Midnight Swim (US) WP
Dir: Sarah Adina Smith
Miss Granny (South Korea) CP
Dir: Hwang Dong-hyeuk
Monsterz (Japan) CP
Dir: Hideo Nakata
Once Upon a Time in Shanghai (Hong Kong) CP
Dir: Wong Ching-Po
Predestination (Australia) CP
Dirs: Michael Spierig, Peter Spierig
Puzzle (Japan) NAP
Dir: Eisuke Naito
The Reconstruction of William Zero (US) WP
Dir: Dan Bush
The Run (Malaysia) IP
Dir: Ahmad Idham
Suburban Gothic (US) WP
Dir: Richard Bates Jr
The Search for Weng Weng (Australia/Philippines) NAP
Dir: Andrew Leavold
Sweet Poolside (Japan) NAP
Dir: Daigo Matsui
The White Storm (Hong Kong) CP
Dir: Benny Chan
Yasmine (Brunei) NAP
Dir: Siti Kamaluddin
WP – World Premiere
IP – International Premiere
NAP – North American Premiere
CP – Canadian Premiere
QP – Quebec Premiere