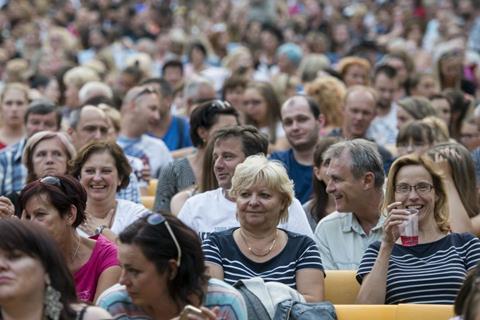 European film festivals are reporting business as usual this weekend despite extreme temperatures of up to 45 degrees Celsius forecast across the continent.
In the Czech Republic, the Karlovy Vary International Film Festival begins today (June 28), with temperatures of up to 37 degrees Celsius predicted for the town on Sunday. The festival, which attracted 13,080 accredited visitors last year, has an open air strand of screenings as well as regular social events taking place outdoors.
However a festival representative said the forecast they had from a local weather service expected slightly lower temperatures, and that they have a medical service on standby in the festival's main venue at Hotel Thermal in case of emergencies.
Munich Film Festival began yesterday (June 27) and runs until July 6, with the thermometer predicted to reach 34 degrees locally on Sunday. No special plans have been put in place for the hot weather; the festival did provide water and handheld fans for attendees at yesterday's opening ceremony, but that was arranged prior to any extreme weather forecasts.
All of its outdoor screenings take place in the evenings, so no disruption to the schedule is expected.
SWR Doku Festival in Stuttgart, Germany runs from June 26 to 29 and temperatures of up to 35 degrees are forecast for this weekend.
The festival is expecting double the number of guests it hosted last year; however it has no particular provisions in place for the hot weather, and stated that all venues for both screenings and workshops, talks and interviews are air-conditioned.
In France, La Rochelle Film Festival runs from June 28 to July 7, with organisers prepared for temperatures of up to 34 degrees this weekend. However temperatures are presently around 22 degrees, and with air-conditioned theatres, the festival has no plans for any changes to its programme.
Extreme temperatures have been recorded across Europe in the past week, causing severe disruption including unprecedented wildfires across 16,000 acres in Catalonia, leading to evacuations. Increased heat is forecast for the weekend, with temperatures of up to 45 degrees forecast for northern and eastern Spain.
With cooler temperatures of around 20 degrees predicted for central Scotland, the closing weekend of Edinburgh International Film Festival should be untroubled by unseasonal warmth.
Several film events in the UK and Ireland including Glasgow and Dublin Film Festivals were severely disrupted in February-March last year by a strong snowstorm. Known as 'the Beast from the East', it lasted for several days and led to the closure of many film venues, as well as roads, rail stations and airports, preventing many attendees from travelling.