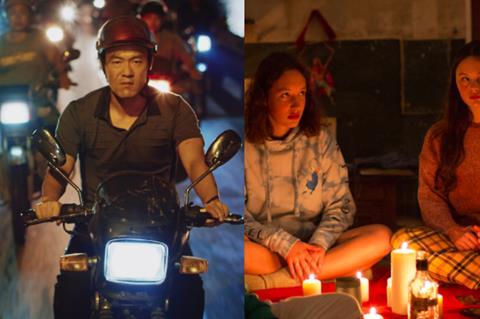 US distributor Film Movement has picked up two films ahead of their anticipated North American premieres in Toronto – Diao Yinan's gangland noir The Wild Goose Lake and Bertrand Bonello's horror-fantasy Zombi Child.
The distributor plans to release both theatrically in 2020 followed by home entertainment and digital roll-out.
The Wild Goose Lake, Diao's follow-up to his 2014 Berlin Golden Bear-winning noir Black Coal, Thin Ice, premiered in Competition in Cannes and screens in Contemporary World Cinema Section on September 10. Hu Ge and Gwei Lun Mei star in the story of a wounded small-time mob boss on the run who encounters a mysterious woman who may or may not be out to help him.
Film Movement struck the deal for North American rights with Memento Films International managing director Emilie Georges.
Zombi Child is the latest film from Bonello, whose Nocturama played in Toronto in 2016 and screens in Masters on September 11. The story starts in Haiti in 1962 and is inspired by events based on the life of Clairvius Narcisse (Mackenson Bijou), who apparently dropped dead on the street and shortly thereafter was turned into a "zombi" when he was dug up from his grave and forced to work on a sugar-cane plantation.
The action shifts to present-day Paris where a rebellious teen at a boarding school becomes obsessed with an orphaned new arrival's tragic past in Haiti and seeks out her voodoo mambo aunt to solve the girl's recent heartbreak. Louise Labèque and Wislanda Louimat star.
Film Movement negotiated US rights with Playtime partner, sales and business development Nicolas Brigaud-Robert, and the film will get its theatrical premiere at Film at Lincoln Center on January 24, 2020.
"We're thrilled to bring directors Diao and Bonello into the Film Movement fold," said Film Movement president Michael Rosenberg. "Both have proven that they are capable of crafting stylish, inventive and compelling films that resonate with moviegoers, and their latest films only further solidify their standing as two of contemporary cinemas most skilled storytellers."
The distributor recently acquired Hlynur Palmason's Cannes Critics' Week selection A White, White Day, which gets its North American premiere in Contemporary World Cinema; Israeli documentary Advocate from Rachel Leah Jones and Phillipe Bellaïche; Melina Léon's Peruvian drama Song Without A Name, which premiered in Directors' Fortnight in Cannes; and Jayro Bustamante's Ixcanul follow-up and Berlin Panorama selection Tremors.