Rebecca O'Brien, who has worked with Ken Loach for last 25 years, warned that Brexit is likely to exacerbate the problem.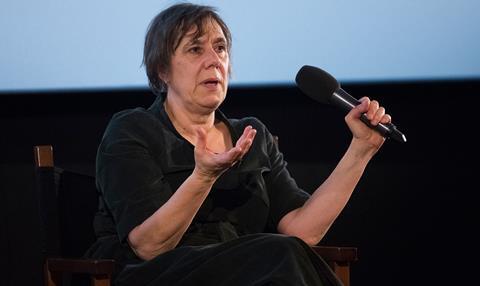 I, Daniel Blake producer Rebecca O'Brien has warned that co-productions are becoming trickier for UK film-makers.
Ken Loach's Palme d'Or-winner was a UK, French and Belgium co-production, and the BAFTA-winning O'Brien [pictured below] has been putting together similar international deals for the last 25 years.
She explained that the co-production landscape is not getting any easier.
"I think the main difficulty in terms of indigenous productions seeking co-production is that it's very difficult for us to reciprocate," she said at yesterday's (Nov 24) Screen Film Summit, held at London's Picturehouse Central.
"We don't have a co-production fund in this country anymore that supports films that people come to us with. One of the things about co-productions is that it ought to be a reciprocal arrangement, it doesn't have to be tit-for-tat but over the years one ought to be able to be a minority co-producer in a foreign co-production. That's part of the deal and that's what's become so much more difficult.
"Since restrictions on tax credits came in, which are only available on money used on goods and services that are consumed in the UK, I think that has limited the possibilities for co-productions because if you want to make a British film abroad you can't get that UK tax credit. It's discouraged us in a way from making films abroad. It's almost in preparation for Brexit in a way.
"It's difficult unless there is a co-production fund available and unless there are distributors interested in working with foreign directors and talent. I know some producers who have actually turned themselves into German or Russian companies in that respect. The only way you can co-produce is to change nationalities."
O'Brien, who started working with Loach back in 1990 on thriller Hidden Agenda, also predicts that Brexit could cause issues for UK co-productions in the future.
"[Brexit] shouldn't make co-productions more difficult in theory, because the co-production treaties we use… all pre-date the EU," she said.
"I think what will make things difficult for us is any interruptions to freedom of movement. If we end up having to get visas for people, if [there are restrictions] to moving goods around. Those could be much more damaging to us. The other problem with Brexit is that we will no longer be part of Creative Europe, a very important fund for slate building and because it subsidises distribution for indigenous and European films. I can see my market for Ken's films drying up."
I, Daniel Blake was a Sixteen Films, Why Not Productions and Wild Bunch production made with the support of the BFI and BBC Films.