Speaking at the Screen Film Summit, The Night Manager director also said that taking on a Bond film "would be a lot of fun".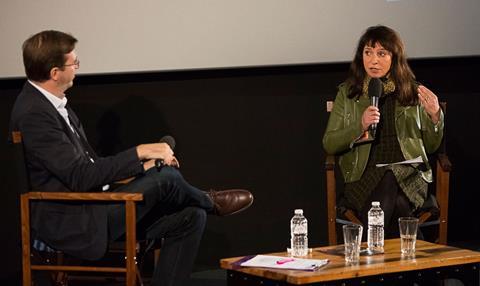 Susanne Bier, the Oscar and Emmy-winning Danish filmmaker behind the TV series The Night Manager, has said that working in television currently offers her more creative opportunities than the film industry.
"In recent years, some of the strongest manifestations of singular [auteur] visions have been in television," she said during a keynote and in conversation at the Screen Film Summit in London.
"At higher budgets, TV has shown less tolerance for the predictable and the generic which is so evident in the summer movie calendar."
"[The Night Manager] as a film would have competed with James Bond or Jason Bourne, but as a television programme it was up against an endless list of instantly accessible high quality titles: House Of Cards, Better Call Saul, Westworld, The Crown."
"The market logic of big budget television dictates that producers are required to think more adventurously and take more risks," she added.
Bier said that her being chosen to direct The Night Manager "was a leap of faith" but the decision was made because "as a woman taking on Le Carré, I would bring a fresh vision to a familiar and very male world."
"Television is a popular art form that is truly global. There's less space for the conventional, predictable assumptions of film production that dictate that, as a female director, I can only do romantic dramas and comedies," she added.
Despite being upbeat about the prospect for female directors in television, Bier stressed that TV "is not a feminist utopia" and that "the entire entertainment industry has much work to do to reflect the diversity of its audience."
"There's still something threatening about a female vision when it strays beyond the 'woman's picture'," she said. "The industry is in desperate need of new perspectives."
Global recognition
Bier rose to fame in her native Denmark through popular and hard-hitting drama After The Wedding, which she revealed was seen by almost 10% of the entire population of Denmark.
The film was a critical hit internationally, premiering at the Toronto International Film Festival before going on to receive an Oscar nomination in the foreign-language category.
In 2011, her romantic drama In A Better World went one step further, winning the foreign-language Oscar.
Despite this success, Bier said that "In Europe I'm mainstream and in Hollywood I'm auteur because some of my movies have subtitles."
The Night Manager has garnered her more attention on the world stage – in the UK the series attracted 6.6m viewers per episode, in China the figure was 40m – and Bier's next career move could move her further into the so-called mainstream.
Future projects
Quizzed by Screen International editor Matt Mueller, Bier said that she was "considering a few different projects" but admitted that a rumoured assumption of the James Bond hot seat from Sam Mendes "would be a lot of fun".
She also revealed that she would be interested in doing more spy thrillers. When asked by Mueller whether she was looking at directing further Le Carré adaptations, she responded with a coy "we'll see".