Ahead of today's announcement that Film4's 2016 budget has been increased from $22m to $36m (£15m to £25m), Film4 CEO David Kosse sat down with Screen to discuss what the extra investment will mean to the company.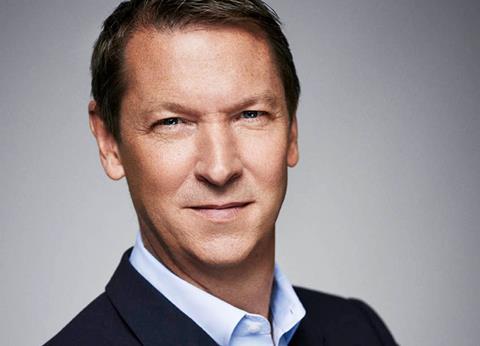 The significant boost in investment from Film4's parent company, Channel 4, comes a little over a year into Kosse's tenure and is a huge vote of confidence in his vision and strategy for Film4's future.
Can you begin by sharing your pitch to Channel 4 in terms of securing this significant boost in investment for Film4?
It's really building on what we've done in the past - looking at what we've done and saying, "Okay, we're obviously choosing talent well and choosing projects well".
But in many cases, we're not making money on [Film4-backed] movies that are making money. Other people are making money. So we're choosing the projects, we're developing the projects, we're investing in the projects but our position in many of these projects isn't where it should be.
It doesn't take a lot of analysis to show that had we taken a bigger position in a number of those films and reduced the costs that come with a multi-party agreement, we would have made more money when the film was successful, and really not lost much more when the film wasn't successful. But in order to do that, you needed more money that would allow you to take bigger swings.
On individual projects?
It's being able to say: "Okay, we could make three films and put £3m ($4.3m) into those three films." And even if they were great versions of themselves, given our position we lost half the money. But if we put £3m ($4.3m) into any one of these films, our odds over time would have been to make more money than by investing the same money in three films.
So that kind of says we need £9m ($13m) – over time. It's making the odds better. It's saying that we're choosing films that are making money for people, so shouldn't we have more money in those movies, and shouldn't we see if there's a way to reduce the overall friction in a project that means the money gets split up to all sorts of other people and not the producers.
In all cases, if we end up making money, that money will go back into investing in films. Therefore, it will be a virtuous circle back into the British film community.
What examples were you able to present to Channel 4?
Some of the films that have done well for the channel were films that they fully financed. The Inbetweeners movies, and a few years ago The Last King Of Scotland, where we took a much bigger position in the movie and we did much better than we did in some other films that had greater financial success but we had a smaller position in.
We had a little bit of a broadcaster formula of investments, which was development money, a little bit of equity and a license fee. I said, "That's fine. But it could also be, let's figure out what is our best play for this project. Not just enable the film to be made but enable the film to be made and us to participate."
That could mean holding onto the UK rights because the UK distributors aren't biting at this stage. It doesn't mean we're going to distribute the film but we'll just take a bet that the film will be good enough to find a distributor.
Given that we've made 110 films in the past 10 years and 98% of them got distributed, that's a pretty good bet.
Or it could mean something like the Fox Searchlight deal [on Martin McDonagh's Three Billboards Outside Ebbing, Missouri], where we co-finance 50-50 and keep their fees as low as we possibly can, meaning we get to participate if the film's a hit.
It could also be gap financing in a film, or part-mezzanine financing. It could be any number of these options as long as it makes sense. That's the key strategic change we were able to demonstrate to David [Abraham, Channel 4 chief executive] and the board.
Is the extra £10m ($14.5m) just for 2016?
Right now, it's just for 2016. We're in the process of executing the strategy – we're in 2016, we're well underway. It's a good time to be tying the announcement in with what we've done so far, with the celebration around the awards. The deals are getting done.
Is a significant portion of the extra investment going to the other two deals: the Fox Searchlight deal and the four-film co-production slate with FP Films and Entertainment Film Distributors?
They don't make up a big portion. You can figure that out if you work out the budget of Three Billboards - which we're not going to release - and how much the four comedies are going to cost over two years.
All four of those projects are already in development although we're not announcing any of the talent involved yet beyond [The Inbetweeners and The Inbetweeners 2 writer-directors] Damon Beesley and Iain Morris.
How significant is the co-financing partnership with Fox Searchlight?
If you structure the deal right, having worldwide distribution from a great distributor who has great ancillaries, as long as there's a transparency there to the level of fees that they work to, if you make a hit film, you'll make a lot more money than you will when you sell a film and somebody takes a fee that's at least double what you're able to get from an inducer in that sense.
So that is certainly better for us if we can get the material that worldwide distributors like Fox Searchlight in this particular case are looking for. Everybody is looking for films that those people want.
They all have an appetite: the new Focus [Features], Fox Searchlight, Harvey, and on the sales side, Glen Basner, Lionsgate, eOne - they're all looking for certain kinds of films. We're looking for projects that are great and then we want one of them to want those films.
In the past, we would have said: "Okay, you have it but we developed it and we'll keep UK TV and that's it." Now we'll say: "We developed it and we want a portion of it." It doesn't have to be 50-50, and the Fox Searchlight deal is a template.
We did the deal on a movie that we both liked, but we have a lot of conversations going on with the other studios and the other sales agents about what we have in development and what they want. It's just one deal but we would certainly hope to find other projects with Fox Searchlight and now we've got a structure in place so it might be easier.
Film4 has a history of backing innovative, edgy film-makers. Is the deal with The Inbetweeners duo an indication of any desire to increase the number of commercial projects you develop and produce in future?
Innovative and distinctive and quality - when you're making films at this budget level, they have to be that. The Inbetweeners wasn't an obvious commercial project at the time - it was a very edgy teen comedy, groundbreaking in many ways for broadcast television.
The kind of humour that Damon and Iain do - yes, we hope it will have wide appeal and find as big an audience as possible but it will be distinctive comedy in their style. It's not compromised in any way.
We're not talking about developing big-budget Hollywood franchises, we're talking about doing material that is distinctive and edgy. It has to be at that budget level for it to work. Everything has to go through that filter.
Look at the films we've got coming up: Paddy Considine's Journeymen; Clio Barnard's new film [Dark River]; Chris Morris's new comedy; Mary Magdalene; Yorgos Lanthimos is doing his next film with us. Are they commercial? We'll see when they're finished. We hope they'll have an audience but they fit firmly within the framework of what is best for the British film industry.
The Film4 brand isn't changing, in other words.
I think the Film4 brand is pretty elastic. The Film4 brand encompasses Trainspotting and Shallow Grave as well as Tyrannosaur and The Selfish Giant. And clearly The Inbetweeners, which was seen by more people in the UK than a lot of our films put together.
Our trade brand is that we want to make films that signify to other film-makers that this is a place where they can come and make their film. That's what you get when you make Ex Machina, Alex Garland's movie - you get other people going, "I love that movie, I want to be there."
But I would also say it's expanding. There are other film-makers that I would like to see come to Film4. We've got to make sure we have that open house.
In terms of the extra money, will any of it be allocated to an increased development fund?
I don't know that we've ever revealed what our development budget is but it is significant and it's not going up. The development budget is big enough to foster enough projects and get enough things off the ground.
As with all these things, there's a plan and then the plan gets thrown out the window. The plan is to continue to invest in films from first-time film-makers, from people we've worked with in the past and, in some cases, when the opportunity presents itself, to take bigger stakes in some of those bets.
Of the new projects you've announced, what are you particularly excited about?
I'm excited that Yorgos wants to do The Killing Of The Sacred Deer with us. I saw the first cut of The Lobster – which was done before I got here - called him, took the meeting. He pitched me an idea, I said yes, we did the deal in a week, he delivered the script six months later, he wants to make the movie this year. I'm excited about the idea and his vision of that. It's very much in his world.
I'm also very excited by what Bart Layton is doing with American Animals. It's a first-time feature for an acclaimed documentary film-maker and it's kind of a hybrid approach between some real footage and a fictional heist.