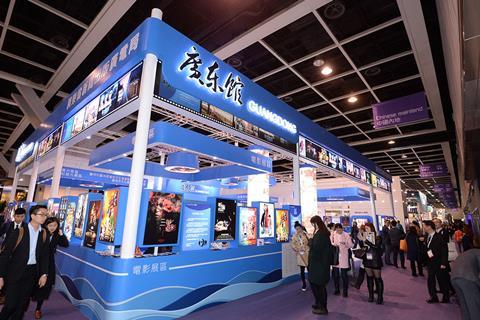 Filmart organiser the Hong Kong Trade Development Council (HKTDC) says it is in talks with exhibitors and other participants about whether to go ahead with this year's edition of the market (March 25-28) as the coronavirus crisis escalates across mainland China and around the world.
The semi-government organisation is expected to decide within the next two weeks whether to proceed as normal, cancel the event or postpone to a date later in the year. However, it is unable to give a timeline on when a final decision will be made.
"We are monitoring the situation closely and reviewing the event with safety as our key priority," said a HKTDC spokesperson when contacted by Screen. "Please understand that we are unable to provide a concrete timeline at the moment. However, we will keep our exhibitors, buyers, sponsors and partners as well as the media updated once we have our decision."
Hong Kong reported its first death from the virus today, a 39-year-old man who had visited Wuhan on January 21 and returned to Hong Kong two days later on the high-speed train link. In total, 17 cases of infection have been reported in Hong Kong. Mainland China now has more than 20,000 cases of infection and 425 deaths.
Responding to the crisis, the Hong Kong government has closed 12 out of 14 land links with mainland China, but stopped short of completely closing the border, prompting anger from Hong Kong residents and a five-day strike among local medical workers. Hong Kong's airport remains open, although flights to and from the mainland have been reduced. Cathay Pacific plans to cut 90% of its flights to mainland China for two months, according to the South China Morning Post.
Filmart is scheduled to hold its 24th edition at the Hong Kong Convention and Exhibition Centre (HKCEC) from March 25-28, which is a few weeks later than usual, as the event had changed dates to accommodate the new timing of this year's Oscars and Berlinale. Last year, the market drew 880 exhibitors from 35 countries and nearly 9,000 visitors, making it one of the biggest film and TV trading events in the world.
The Hong Kong Asia Film Financing Forum (HAF) is scheduled to take place alongside this year's Filmart from March 25-27.
So far, the Hong Kong International Film Festival (HKIFF, March 24-April 6) is going ahead as planned, with the line-up press conference expected in the week commencing March 9. While the organisers say they are "considering all options", the festival is likely to be less affected by the coronavirus outbreak as it has a large and supportive local audience and is less dependent than the market on visitors from overseas.
This year's edition of Filmart had already been in question due to the protest activity that rocked Hong Kong in the second half of 2019. Although the protests had died down between Christmas and Chinese New Year, they were expected to resume after the holiday season. That now looks unlikely with most local citizens avoiding public spaces and working at home.
China shuts most cinemas, production
On the mainland, the outbreak has closed most cinemas and production activity, with local distributors scrambling to reschedule the line-up of post-Chinese New Year theatrical releases. So far, titles including Universal's Dolittle, Millennium's Hellboy and Oscar hopefuls Jojo Rabbit, 1917 and Little Women have all been postponed.
Meanwhile, Chinese film companies, actors, actresses and crew have been ordered to stop shooting by the China Alliance of Radio, Film and Television Production Committee and the China Federation of Radio and Television Association. Major shooting complexes such as Qingdao Oriental Movie Metropolis and Hengdian World Studios have halted all production.