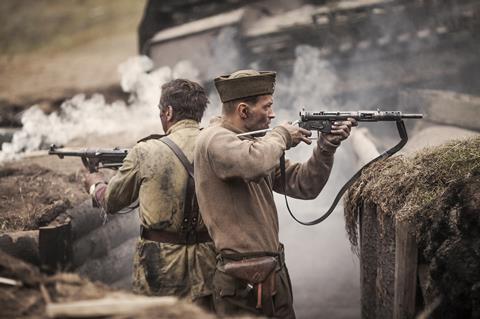 Russia's Mars Media Entertainment has sold Kirill Belevich's Second World War drama Battery Number One (Ednichka) to Japan (Inter Film) and South Korea (Scene & Sound). The company is in negotiations to lock a deal with China.
Starring Andrey Merzlikin and Mikhail Yevlanov, Battery Number One is based on an autobiographical story by Second World War veteran and writer Alexander Nikolaev.
The film takes place in August 1944 when Soviet troops are moving through eastern Poland. Under orders to ensure safe passage for the army over a bridge near an abandoned monastery, Lieutenant Egorov and his battalion discover a makeshift orphanage for deaf-mute children hiding in the monastery with their teacher Eve, and are faced with the dilemma of compromising the refugees or executing their orders blindly.
Mars Media is also launching international sales on high-concept production The Perfect Ones, directed by Kirill Pletnev (Light Up!). When a young man dies leaving a wife and girlfriend behind, they start to get mysterious text messages on their cellphones which prompt them to put aside their mutual loathing and travel to the south of Russia. The film is in post-production for release later this year.
The company is also selling Second World War film T-34, which it is marketing as "Fast & Furious on tanks". It is set for wide release in Russia on December 28 via Central Partnership in alliance with Russia One Channel and Amedia.