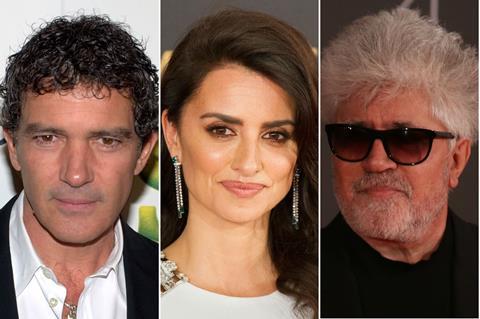 FilmNation announced on Thursday (April 19) it will launch sales in Cannes on Pedro Almodóvar's Pain And Glory (Dolor y Gloria) starring Antonio Banderas and Penelope Cruz.
Production is scheduled to begin in July as FilmNation continues its relationship with Pedro and Agustín Almodóvar's production company El Deseo.
The partners have collaborated on Julieta, The Skin I Live In, and I'm So Excited!
Antonio Banderas (The Skin I Live In) and Penelope Cruz, who was part of the ensemble that earned the Cannes best actress prize for Almodóvar's Volver, star in the tale of a film director in decline who revisits people from his past.
The character contemplates the loves of his life, his mother, his own mortality, a former collaborator, and various decades of his life. In his 21st film, Almodóvar explores themes of creativity and the futility of separating creation from life itself, while considering theatre as a vehicle to revitalise the past and propel it into the present.
Another Almodóvar favourite, Goya nominee Julieta Serrano (Women On The Verge Of A Nervous Breakdown, Matador) stars alongside Spanish actor Asier Etxeandia.
FilmNation CEO Glen Basner said, "One of the great joys I have had since starting FilmNation has been to sell Almodovar films. Dolor y Gloria will be our fourth, and I'm amazed to say that Pedro just keeps getting better."
FilmNation's slate includes comedy Late Night in production, Second World War story Greyhound starring Tom Hanks, Sebastian Lelio's Gloria remake starring Julianne Moore, which is currently in post, and Armando Iannucci's The Personal History Of David Copperfield starring Dev Patel and set to shoot this summer.