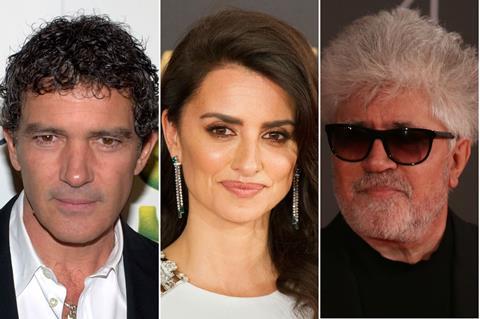 Pedro Almodóvar is working on his new film, Dolor Y Gloria (which translates as 'Pain And Glory'). Shooting will start in July and two of his favourite actors will be in the cast: Antonio Banderas and Penélope Cruz.
Dolor Y Gloria is about "a film director in the twilight of his career" and his reflections on life and work, said Almodovar via a statement from hs Madrid-based production company El Deseo, which he runs with brother Agustin. "First loves, second loves, his mother, mortality, an actor who worked with him in the past, the seventies, the eighties, his present, the void, the unbearable void brought by the fact he cannot keep on shooting."
Many of these topics are close to the Spanish auteur's heart and recur in his filmography - as are some of the cast. Antonio Banderas, who started his career with the Spanish director with Labyrinth Of Passions in 1982, will play the lead alongside Asier Etxeandía (The Bride). It will be the eighth time Banderas has worked with Almodóvar. He most recently starred in Cannes competition title The Skin I Live In (2011) and had a brief role in I'm So Excited (2013), which also featured Cruz.
Almodóvar made his name as a 'women's director' with films including Women On The Verge Of A Nervous Breakdown, Volver and Julieta, But, as in Bad Education and The Law Of Desire, Dolor Y Gloria will be a "film with male leads", said the director. Cruz and Julieta Serrano will play key supporting roles and Almodóvar said he was happy "to have back two actresses I adore" in the cast.
It will be the sixth film Cruz and the director have made together following Live Flesh, All About My Mother and Volver, among others.