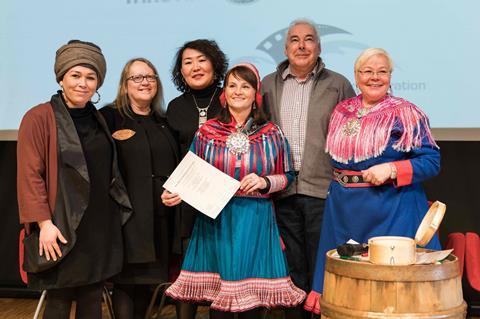 The first board has been appointed for the new Arctic Indigenous Film Fund, which launched in March.
Greenland's Kuupik V. Kleist, former prime minister of Greenland, has been appointed as chairman of the Fund.
The other board members are Mike Downey, producer and CEO of Film & Music Entertainment; Norway's Maria Utsi, director of the Arctic Arts Festival; Norwegian actor and filmmaker Nils Gaup; Russian producer Sardana Savvina; and Canada's Huw Eirug, CEO of the Nunavut Film Development Corporation.
The International Sami Film Institute established the fund with collaborating partners Canada Media Fund, Nunavut Film Development Corporation, Greenland Film makers - FILM. GL and Archy, Russia.
Anne Lajla Utsi, managing director of the International Sami Film Institute, said, "We are very proud that the first board of AIFF consists of so many excellent representatives from all across the Arctic with a very strong competence in both film and Arctic cultural issues."
Mike Downey, producer and co-founder of F&ME and deputy chair of the European Film Academy, told Screen, "Our aim is to make it a sustainable fund for emerging indigenous filmmakers, in order for it to provide support at all stages of development, boosting and building the prospects for a joined up film industry in the Arctic region, at once one of the toughest and most fragile parts of our globe."