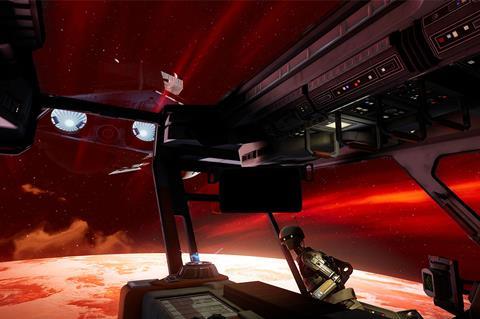 Vicki Dobbs Beck, executive in charge of ILMxLAB, the immersive entertainment division of Lucasfilm, and René Pinnell, founder of the increasingly influential VR funding platform Kaleidoscope, will be among the headline speakers at the second edition of the fast-growing NewImages Festival in Paris.
The festival opens today (June 19) and runs until June 22.
Born out of the Paris Virtual Film Festival in the Forum des Images cinema and cultural space, NewImages aims to become one of the key international meeting points for professionals interested in immersive entertainment.
"This year's edition demonstrates the vitality of the immersive VR scene and everything that surrounds it," said Forum des Images' head of digital development and festival director Michael Swierczynski. "We've never had so many people registered for the market, projects submitted and big companies, from HTC to ILMxLAB, attending as this year."
Dobbs Beck will give a talk on Saturday (June 22) on ILMxLAB's content strategy as part of the festival's three-day industry programme.
The Lucasfilm division, which previously worked on Alejandro Gonzáles Iñárritu's Oscar-winning VR installation CARNE y ARENA, will begin rolling out the first episode of its Stars Wars VR experience Vader Immortal on the Oculus Rift headset on June 20, having first released it on the wire-free Oculus Quest on May 21.
ILMxLAB will be showcasing the experience in a special installation in the Forum des Images main cinema theatre, in one of its first public outings.
Further high-profile speakers over the three days will include Kristine Severson, head of global content partnerships at HTC Vive, who oversees VR as a tool for social engagement, and Kaleidoscope founder Pinnell who will discuss financing opportunities for immersive works.
The Kaleidoscope Fund has raised some $14m for VR creation since its launch in 2014, including for the VR film Battlecar, starring Rosario Dawson, and VR series Spheres, staring Jessica Chastain and Patti Smith, which was executive produced by Darren Aronofsky.
Financing market
A major development at the second edition of the festival will be the launch of the XR Financing Market. Its inaugural edition will feature 40 immersive projects, spanning cinema, video games, performing arts and using VR and AR technology to tell stories in new and fresh way.
They include the VR installation Hush, about a mythical land inspired by a rural region in northern Denmark, which is produced by Danish production house Final Cut for Real; the dark thriller Voyeur, co-produced by France's La Générale de Production, Belgium's Tarantula and Canada's Turbulent; and UK artist Mat Collishaw's VR experience Bedlam, recreating the reality of a 17th century hospital, co-produced by France's DVgroup and London-based Minky Productions.
One of the projects will be selected by Pinnell to be included in the Kaleidoscope Slate Funding 2019 platform, aimed at supporting 10 innovative AR and VR projects, with budgets ranging from $100,000 to $1m.
Festival component
The festival component features an international competition showcasing 12 immersive works, including French filmmaker Jan Kounen's Ayahuasca, video game A Fisherman's Tale, and futuristic animation Gloomy Eyes, narrated by Colin Farrell.
US filmmaker Colin Trevorrow, who re-launched the Jurassic franchise with the smash hit Jurassic World, will preside over the jury also featuring choreographer and director Bianca Li, Legendary Entertainment's Katie Calhoon, executive producer of Carne y Arena; and Taiwanese new media artist Hsin-Chien Huang, whose collaborations with Laurie Anderson were recently screened at Cannes Directors' Fortnight. The international prizes comprise $10,000 Golden Mask and the Special Jury Prize, worth €5,000.
The festival also features a special showcase of Taiwanese digital works works including Huang's surreal tale The Missing Body (Pt.1) and three productions from the Kaohsiung Film Archive:Afterimage for Tomorrow, Way to Heaven and Live Stream from Yuki.