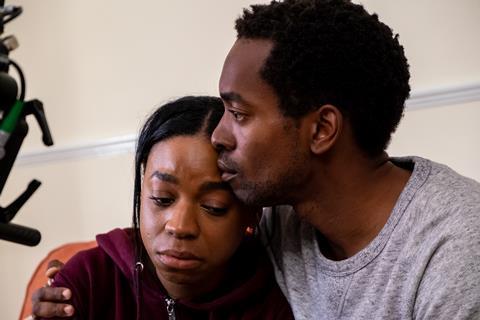 Screen can exclusively reveal a first look image from Real, the feature directorial debut of actor Aki Omoshaybi.
Filming on the title wrapped earlier this month, with locations including Leigh Park housing estate near Portsmouth.
The film is a romantic drama set in contemporary Britain, following new couple Kyle and Jamie who try to hide the true struggles and hardships of their lives while at the start of a blossoming relationship.
Matthew and Tori Butler Hart are producing through their company Fizz And Ginger Films, with a cast including Pippa Bennett-Warner and Omoshaybi as leads, plus Karen Bryson, Amy Manson and Amanda Lawrence.
Financing comes from private equity through Small Long Productions, which was created by Omoshaybi.
Omoshaybi's credits as an actor include small roles in 2014's The Riot Club and last year's Star Wars: The Last Jedi.