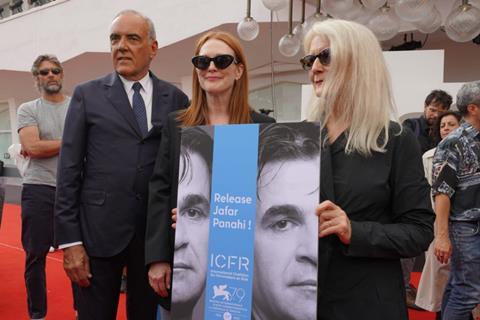 Artistic director Alberto Barbera, jury members Julianne Moore and Argentinian director Mariano Cohn, and Italian producer and director Leonardo Di Costanzo, were among a flash mob of over 100 people who protested the arrest of Iranian director Jafar Panahi on the red carpet of his film No Bears at the Venice Film Festival today (Friday September 9).
The group held light blue placards bearing photos of the director, with "Release Jafar Panahi" written on them.
"The message is that we all are on the side of the filmmakers," Barbera told Screen. "They are first and foremost individuals that need to be permitted to express their ideas and to create their art, which is the reason why we love and support them. Attacks on freedom of speech around the world are increasing and this is a really worrying."
Panahi was sentenced to six years in prison in June after being arrested for criticising the government alongside fellow Iranian filmmaker Mohammad Rasoulof. His film No Bears is screening in competition at Venice.
The protest took place on the red carpet at the Palazzo del Cinema, the iconic main venue of the festival where the opening and closing ceremonies are also held.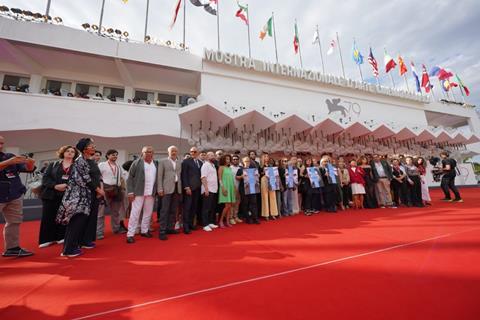 "We are here to be with Jafar Panahi who is in prison," said Lise Clavier, a member of the Giornate degli Autori jury comprised of 27 young cinephiles from EU countries. "We are here to support him. The Iranian regime is being harsh and cutting the freedom of expression. We are here to say that directors are free to do their work."
The flash mob was part of a series that festival organisers unveiled in support of filmmakers in difficulty around the world during the 79th edition of the festival. On September 3, a group of industry representatives gathered in collaboration with activists' association the International Coalition Filmmakers at Risk (ICFR) to raise awareness of oppressed filmmakers the world over.
The panel speakers hosted at the festival urge the cinema industry to mobilise against repressive action and discuss concrete action that may be taken by the international community. On September 8, the festival hosted a Ukrainian Day that was market by events and talks centred on the difficulties faced by filmmakers in the conflict-torn country.