Flanders funding organisation will invest €750,000 in a feature film every year.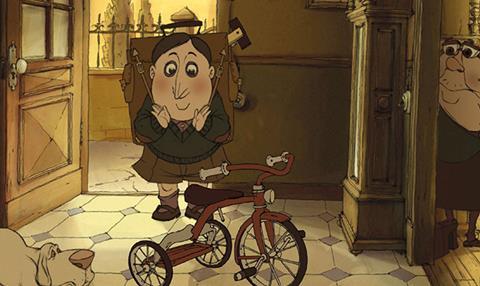 In a move which could provide a major boost to long form animation in the Flemish region, The Flanders Audiovisual Fund (VAF) is to set aside €750,000 ($793,000) each year to invest in a single majority-produced animated feature.
In an interview with Screen, Pierre Drouot, director of the Vlaams Audiovisueel Fonds (VAF), explained the thinking behind the intervention. The aim, Drouot said, was to guarantee at least one animated feature a year for which "the content and the IP was in the hands of the Flanders sector".
"Animation is a sector that we want to develop even more in the future," the VAF boss said.
Flemish animation producers have been involved as minority partners in several award winning features in recent years, among them The Triplets Of Belleville, The Secret Of Kells and A Cat In Paris (all Oscar nominated). The aim now is to give Flemish animators the chance to originate and control their own feature projects.
Drouot revealed that the first investment in majority animation will be made later this year.
Applications will need to be made in English, as two foreign experts with voting rights have been added to the Fund's selection committee. The experts are Paul Young, co-founder of Irish outfit Cartoon Saloon (which produced the Oscar-nominated Song Of The Sea) and Jean-Paul Commin, of French company Les Armateurs which co-produced the Oscar-nominated Ernest And Celestine.
Alongside the €750,000 for a majority Flemish animated feature, the VAF will continue to invest a further €750,000 in animated shorts.
The decision was announced on the eve of this year's Cartoon Movie pitching and co-production event (March 8-10), held in Bordeaux, at which Flanders is guest of honour. 10 animation producers from Flanders will be in attendance under the banner 'The Flandriens of Animation'. Three Flemish projects as well as five co-productions with Flemish involvement will be pitched at the festival.
The three features are Jan Bultheel's second feature Canaan, billed as a "flemish western" and produced by Tondo; Jesper Møller's eco-themed Crazy Island (produced by Grid Animation); and ZOOks, directed by Kristoff Leue and Dimitri Leue (and produced by Sancta and Potemkino).
In recent years, the animation sector has blossomed in Belgium. Flanders is home to more than 20 animation production companies, 10 of them with their own studio facilities. These companies released 11 features and 12 series (including minority co-productions) between 2013 and 2016, and have 25 features and 30 series in the pipeline for 2017-18.
Drouot will be stepping down from at head of the VAF at the end of the year (on Deember 22) - he started in 2005. The VAF in this period has supported live-action projects such as the Oscar-nominated Bullhead by Michaël R. Roskam and The Broken Circle Breakdown by Felix van Groeningen.