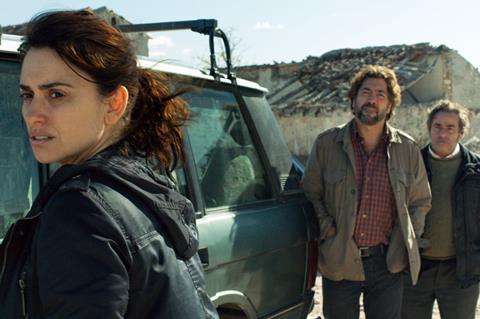 Focus Features has acquired the US, UK and multiple territories to Asghar Farhadi's Cannes opening night film Everybody Knows.
Focus pounced after Tuesday night's premiere and has picked up the US, UK, Australia, New Zealand, Canada, South Africa, India, select Asian territories and the Middle East excluding Iran.
The studio, led by chairman Peter Kujawski, acquired rights to Spain last year.
Farhadi's follow-up to his Oscar-winner The Salesman wrote and directed the Spanish-language psychological thriller starring Penélope Cruz, Javier Bardem and Ricardo Darín.
Everybody Knows follows Laura (Cruz) on her travels from Argentina to her small home town in Spain for her sister's wedding, bringing her two children along for the occasion.
Amid the joyful reunion and festivities, the eldest daughter is abducted. In the tense days that follow, various family and community tensions surface and deeply hidden secrets are revealed.
Alexandre Mallet-Guy of Memento Films and Álvaro Longoria of Morena Films produced the film, and UTA Independent Film Group and Memento Films International negotiated the deal on behalf of the filmmakers. Memento Films International handles sales outside the US.
"Asghar is a world-class filmmaker whose work transcends language," Kujawski said. "Matching his talents with these emotionally charged performances from Penelope, Javier and Ricardo will leave audiences captivated."