Penelope Cruz and Javier Bardem reunite for Iranian director Asghar Farhadi's trip into Spanish-speaking terrain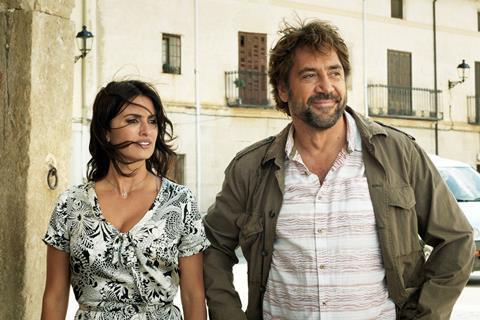 Dir. Asghar Farhadi. Spain/France/Italy. 2018. 132mins
The joy of a wedding in the Spanish countryside morphs into the anguish of a kidnapping, against an ever-shifting backdrop of family secrets in the ironically titled Everybody Knows (Todos lo saben). Making fine use of a top-flight Spanish-speaking cast, Asghar Farhadi deftly inserts love, resentment, class, money and family ties into a propulsive narrative replete with doubts, accusations, intimations, red herrings and other welcome ingredients from the suspenseful-drama arsenal. Solidly entertaining, Farhadi's second film outside Iran (after France-set The Past) should see encouraging returns worldwide following its world premiere as in Competition as Cannes opening film.
A good yarn well told
After a pleasingly artful look at the intricate gears that run the clock and chimes in the church bell tower – if only humans ran like clockwork! – we're introduced to a great many characters in short order as Laura (Penelope Cruz) arrives with her two children, frisky 16-year-old beauty Irene (Carla Campra) and young Diego, to attend her sister Ana's (Inma Cuesta) wedding to Joan (Roger Casamajor) in the village where they grew up. Laura, who lives in Argentina, doesn't get back to Spain all that often since she married Alejandro (Ricardo Darín) roughly 20 years ago. He, alas, couldn't make the trip due to work obligations.
Third and eldest sister, Mariana (Elvira Minguez) runs a small hotel with her husband Fernando (Eduard Fernandez). Their daughter Rocio (Sara Salamo) lives with them with her young daughter. She and her husband are separated.
Happy reunions as everyone converges for the celebration include Laura and her childhood friend Paco (Javier Bardem) who runs a local vineyard that employs many families as well as transient seasonal grape-pickers. How Paco obtained the land is a sticking point for some in the region. He and his very attractive wife Bea (Barbara Lennie), who teaches at a school for young delinquents, are clearly crazy about each other.
Young Irene takes an immediate liking to Paco's nephew Felipe, who lets her pilot his motorbike at top speed down country roads. The only glitch in what would appear to be a charmed life is that Irene has asthma for which she requires medication.
The post-ceremony party is in full swing when the electricity goes out. Not feeling well on the dance floor – probably due to jet lag – Irene goes upstairs to bed. That same night the ordeal, which takes up the rest of the film, begins when a text message arrives on Laura's phone saying kidnappers have her daughter. Sure enough, Irene is gone. There's a precedent in the vicinity that ended badly, which gives extra weight to the warning not to inform police.
A nicely sustained tone of unease takes over. How will Laura break the news to Alejandro? And how can they cope with the ransom demand for a sum nobody could possibly be expected to assemble before Irene's health problems turn deadly?
We live in a time of purloined meta-data but all the problematic revelations and interpersonal ammunition that surfaces here stems from people just plain saying things to each other, with or without discretion. The entire cast acquits itself well, with special praise for the dynamic between Bardem and Lennie and for Darín, whose Alejandro has an uncommon belief in the power of adversity and subscribes to the mystical notion that everything happens for a reason. Veteran DoP José Luis Alcaine's lighting contributes to a burnished sense of place as long-buried bits of explosive information ignite.
Plunging headfirst into a tense European tale without a residual trace of Iran or Farsi, Farhadi pulls off a setting rife with plausible motivations and complex – although never hard to follow – intrigue. Is human nature the same all over? Probably. But a good yarn well told is almost certainly a universal pleasure.
Production companies: Memento Films Production, Morena Films, Lucky Red
International sales: Memento Films International, sales@memento-­‐films.com
Producers: Alexandre Mallet-Guy, Alvaro Longoria
Screenplay: Asghar Farhadi
Production design : Clara Notari
Editing: Hayedeh Safiyari
Cinematography: José Luis Alcaine
Music: Javier Limón
Main cast: Penélope Cruz, Javier Bardem, Ricardo Darín, Eduard Fernández, Bárbara Lennie, Inma Cuesta, Elvira Mínguez, Ramón Barea, Carla Campra, Sara Sálamo, Roger Casamajor, José Ángel Egido