Focus Features is returning to its roots and will merge with Universal Pictures International Productions (UPIP) to form a global specialty brand with a burgeoning worldwide production and acquisitions pipeline.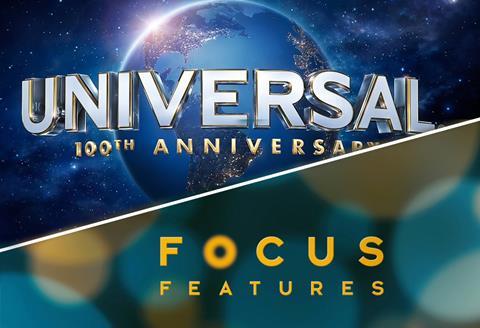 Peter Kujawski, a Universal star who has served as managing director of UPIP and scored hits for the studio with territory buys on The Wolf Of Wall Street, Boyhood and Room, will lead the new Focus Features as chairman.
Kujawski will transition into the role following the exit of Current Focus Features CEO Peter Schlessel on April 1. Schlessel has worked on the merger over the last few months with Universal Pictures chairman Donna Langley, who paid tribute to the executive said his departure was a mutual decision given that "his interests are not solely focused on the specialised film marketplace."
UPIP co-managing director Robert Walak will become president and illustrates the global perspective and filmmaker ties the studio is keen to foster. As former managing director Europe/president production, acquisitions and television at the Weinstein Company, Walak brought in Carol and international hits Paddington and The Imitation Game.
Universal Pictures' evp of film strategy Abhijay Prakash will join Focus as COO.
Current Focus COO Adrian Alperovich, marketing president Christine Birch and president of acquisitions Lia Buman will also depart in April. Langley made the announcements on Thursday.
Focus Features will retain full marketing and distribution operations and the intention is for the North American distribution volume to remain the same.
Internationally it will build on UPIP's commitment to local-language production, English-language co-productions, territorial acquisitions, and English-language production around the world.
"This move further demonstrates our commitment to both the specialty space and the international production and acquisition businesses," said Langley.
"By aligning these product lines and bringing them closer to the studio, Focus will be able to take advantage of a wealth of resources – maximising its opportunity for success."
She later added: "With Peter's leadership and team-building abilities, coupled with Robert's impeccable taste and wealth of filmmaker relationships, and Abhijay's vital experience in strategic slate building, we believe we are well-positioned to be a leader in the specialty business around the world.
"When we decided to make genre, wide-release films part of Universal's main slate and return Focus Features primarily to specialty product, Peter Schlessel and I mutually agreed that it was the right time for him to leave the company as his interests are not solely focused on the specialised film marketplace.
"He has been a terrific leader for Focus for the past two years and we are appreciative of his collaborative team-oriented attitude and dedication to oversee the upcoming films on the slate and facilitate a smooth transition."
"I have enjoyed my time at Focus and getting to know some very talented executives both at the company as well as within the Universal leadership team," said Schlessel.

"I am very proud of our 2016/17 slate which followed the mandate given to us to combine director-driven movies with wide release commercial pictures. With Universal's success in the diversity of its slate I was happy to help transition the company back to a pure specialty label."
Schlessel will oversee the release of the division's upcoming releases of Race, London Has Fallen and The Young Messiah before his departure.
Kujawski said: "The foundational belief on which Focus Features was built and will continue to operate is that movies are an important and meaningful part of how people connect with and better understand each other. With our new worldwide perspective, Focus will continue that mandate with a global audience."
He began his career at Good Machine and became evp of international sales at Focus Features. He came to Universal in 2011 as evp of worldwide acquisitions before his appointment to managing director of UPIP in 2014.
Walak joined Universal Pictures in 2015 as co-managing director of UPIP. Before The Weinstein Company he was svp of acquisitions and production at Alliance Films/Momentum Pictures, where he led the acquisition of The King's Speech. Prior to that he worked in business development at Endemol and was a producer at MTV Europe. He will continue to be based in London.
Before coming to Universal, Prakash worked at the Boston Consulting Group and also held other positions in media and worked as a public policy researcher.