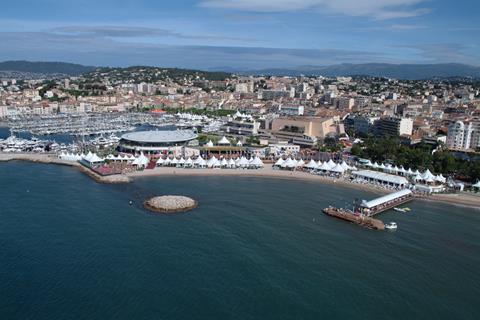 Football fever has gripped Cannes and after Sunday's world premieres on the Croisette, all eyes will be on the mouth-watering prospect of England v Italy in the Euro 2020 final at Wembley.
Public and private venues will be packed for the 9pm local time kick-off as filmmakers, industry and press tune in for the climactic encounter between Gareth Southgate's Three Lions and the Azzurri masterminded by Roberto Mancini.
Dozens of select invite-only gatherings around town have also sprung up
There will also be no shortage of bars and restaurants showing the game around town. Punters at popular Euro 2020 hangouts like Ma Nolan's, Morrison's, Barrel Pub and Petit Majestic are advised to arrive early to contend with the tourist crowd.
Football-mad Nanni Moretti will be presenting the premiere of his Competition selection Three Floors on Sunday night. The film ends at 9.15pm, at which point the delegation will tuck into a post-screening dinner, although it remained unclear whether they will have one eye on a TV.
Many in the Italian press corps plan to catch the 5pm Three Floors press screening prior to decamping to The Byron, where they cheered on their team in the semi-final penalty shootout win over Spain.
At time of writing Screen was unable to confirm reports that a high-profile Italian delegation including an A-list festival director had made a reservation at a local pizzeria.
Italian sales agents will be drinking and dining in a combination of public and private venues as they suport the Azzurri, who have been without a major international tournament win since the 2006 World Cup. Italy won the Euros in 1968 and finished runner-up in 2000 and 2012.
The English delegation will also be scattered around town to watch the national side in their first major tournament final since the triumphant 1966 World Cup. The Three Lions made it to the last four at the 2018 World Cup.
While plenty of Cannes attendees have no strict allegiance to either side, they have their favourites. Participant CEO David Linde said, "My team is Tottenham Hotspur in the Premiere League, but on Sunday it's 'Forza Italia!'" By contrast Visit Films head Ryan Kampe and Charades' Carole Baraton said they will be rooting for England.
Gabriele Niola contributed to this report.