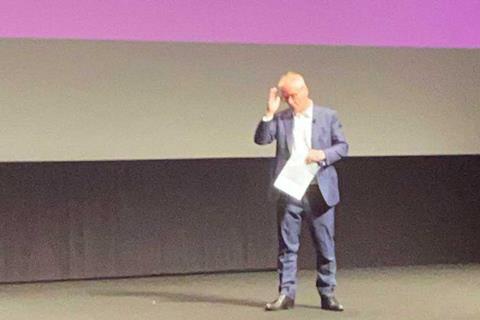 Cannes Film Festival director Thierry Frémaux has denounced "silly" rumours of Covid spread at the festival, claiming that "there is no Cannes cluster".
Speaking before a screening of Hafsia Herzi's Un Certain Regard title Bonne Mere at 2pm on Saturday July 10, Frémaux read a statement to the audience in which he said there were no positive tests at all at the festival on Friday July 9.
Frémaux provided data on the number of tests given and cases contracted at the festival. He also sought to reassure the audience by addressing why talent at press conferences and on stage have been allowed to remove masks.
Frémaux's announcement comes as growing rumours of a Cannes cluster have been spreading across the festival and on social networks, as well as confirmation that leading French actress Léa Seydoux has tested positive for Covid-19 casting doubt over her in-person press activities for four films this week at the festival.
Seydoux is currently in Paris, where she is asymptomatic and fully vaccinated. She will remain in the French capital for now under the recommendation of her doctor.
In France, anyone who tests positive for Covid-19 is required by law to self-isolate for 10 days from their first symptoms; or for 10 days since their positive test if they have no symptoms.
Seydoux is due to walk the red carpet at the Grand Théâtre Lumière for Wes Anderson's highly-anticipated The French Dispatch, debuting in Competition at 7pm CET on Monday, July 12. She is also due to have further premieres for Arnaud Desplechin's Deception on Tuesday 13 at 7pm, out of Competition; Ildiko Enyedi's The Story Of My Wife, at 6.45pm on Wednesday 14; and Bruno Dumont's France at 7pm on Thursday 15, the latter two both in Competition.
Later this year she will be seen in the long-delayed No Time To Die, the 25th film in the James Bond series, reprising her role as psychiatrist Dr. Madeleine Swann.
She was awarded the Palme d'Or at Cannes for Blue Is The Warmest Colour in 2013, alongside fellow actor Adèle Exarchopolous and director Abdellatif Kechiche.