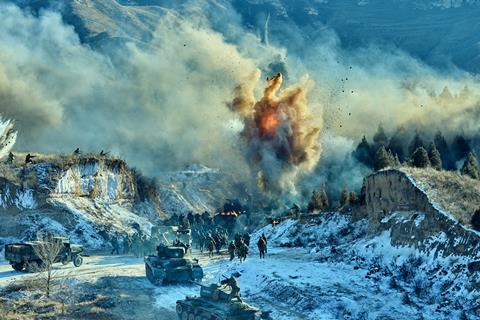 Fortissimo Films has secured international rights to Chinese war epic The Volunteers: To The War by Chen Kaige, the acclaimed director of Farewell My Concubine and The Battle At Lake Changjin.
The Amsterdam and Beijing-based sales company will launch sales on the feature at the Asian Contents and Film Market in Busan next month, following its release in China on September 28. The international sales agreement excludes North America, Australia and New Zealand.
The film, previously known as The Great War, is the first in a planned series about the 1950 Korean War with an ensemble cast that includes Xin Baiqing (The Eight Hundred), Zhang Songwen (The Shadow Play), Huang Xiaoming (The Eight Hundred), Zhang Ziyi (Crouching Tiger, Hidden Dragon), Zhu Yawen (Cliff Walkers), Zhang Zifeng (Detective Chinatown 3), Yin Fang (Better Days) and Wang Chuanjun (Dying to Survive).
Chen is known for winning the Palme d'Or at Cannes with his 1993 classic Farewell My Concubine, which went on to win Bafta and Golden Globe awards. A 4K restoration of the film was released in North America on September 22 by Film Movement to mark the 30th anniversary of the feature.
He gained further acclaim with Temptress Moon and The Emperor And The Assassin. More recently, along with Dante Lam and Tsui Hark, Chen was one of three high-profile directors who broke mainland Chinese records with two-part war epic The Battle at Lake Changjin.
Fortissimo current slate includes Tian Xiaopeng's animation Deep Sea, which played the Berlinale, and Xu Haofeng's martial arts drama 100 Yards.