EXCLUSIVE AND UPDATED: Shock departure due to shareholder dispute.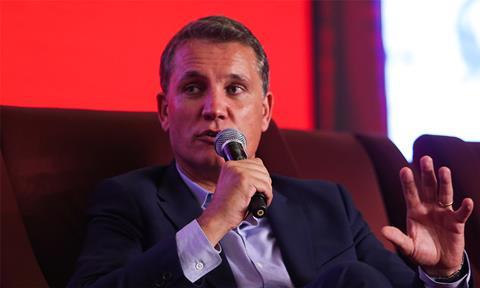 IM Global founder and CEO Stuart Ford has been forced out of the company he founded 10 years ago, Screen has learned.
It is understood the departure happened over the weekend following ongoing disagreement with the shareholders over the direction of the company and matters had escalated in recent weeks to the point of rancour.
Tang Media Partners (TMP), which acquired a 60% stake in IM Global last year, notified IM Global staff on Monday morning at the company's West Hollywood offices. IM Global employs around 60 people and has offices in Los Angeles, New York, London, Munich, Mumbai, Mexico City, Beijing and Shanghai.
IM Global was riding high in its tenth anniversary year. Among the company's typically robust volume of films was recent Oscar winner Hacksaw Ridge. Besides a busy sales business, the company's growing roster of self-produced and financed features includes three that had been put into production in the last several months.
Comedic drama Richard Says Goodbye starring Johnny Depp begun production in Vancouver last month, while Steven Knight is shooting the noir thriller Serenity starring Matthew McConaughey and Anne Hathaway in Mauritius.
The slate includes spy thriller The Rhythm Section starring Blake Lively with James Bond producers Michael G. Wilson and Barbara Broccoli.
Ford and his team presided over a sales slate in Cannes that included Viggo Mortensen thriller Unabomb, Keanu Reeves thriller Siberia, Oliver Stone's Showtime documentary The Putin Interviews, civil war drama Escape starring James McAvoy, and Brian De Palma thriller Domino with Game Of Thrones star Nikolaj Coster-Waldau and Christina Hendricks.
Besides the broader commercial plays that constitute the high-volume nature of IM Global's business, the company has frequently championed arthouse awards season fare such as A Single Man, Locke, and Silence.
An ambitious TV division catering to scripted and unscripted content features scripted titles like Antoine Fuqua's diamond trade drama Ice on AT&T's Audience network.
Kurt Vonnegut adaptation Cat's Cradle is at FX, sci-fi series I, Rebel is at Amazon with David Goyer on board as executive producer pursuant to his overall deal with IM Global Television, and noir Den Of Thieves is with Sony Pictures Television Networks.
In recent years IM Global built up a strategic sales slate of Chinese-language content, and established with Mexican producer Canana the Latin American sales company Mundial, which is now a subsidiary. IM Global also launched Valor Entertainment with Carlos Bobadilla and Brandon Guzmán to represent Latino talent.
Ford built a circle of committed senior executives that includes head of worldwide marketing and publicity Bonnie Voland; as president of international sales Michael Rothstein; Mundial general manager Cristina Garza; president of feature film production Greg Shapiro; president of IM Global Television, scripted, Mark Stern; and president of IM Global Television, unscripted & alternative, Phil Gurin.
Neither Ford nor TMP were available for comment at time of writing.