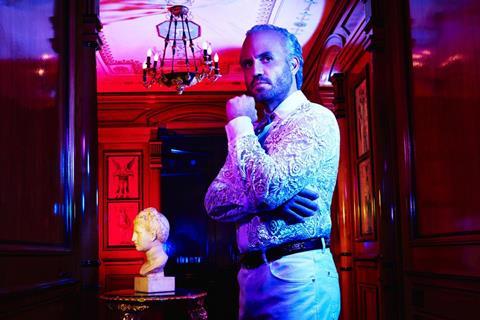 Fox boss Gary Newman has claimed that Netflix has opened a "Pandora's box" by agreeing a £215m deal with Glee creator Ryan Murphy.
The Fox Television Group co-chairman has claimed that the Murphy mega-deal symbolises "a change in the industry" in which cash-rich companies such as Netflix lure premium talent with whopping paychecks.
The exec, who oversees the 20th Century Fox Television studio as well as broadcaster Fox with co-chair Dana Walden, warned that the model will prove to be unsustainable.
"It's difficult when you make one person an offer and someone else says, 'You mean to tell me Ryan Murphy is worth this amount but you think I'm only worth a fraction of that? Maybe I'll go somewhere else where I'm more valued'," he said.
"They are going to have some challenges managing their economics on these deals."
The global SVoD swooped in on the American Horror Story creator in February, heralding an end to the super-producer's long-term partnership with Fox that spanned shows from Fox's Glee and Scream Queens to FX's Feud and American Crime Story (pictured).
Newman blamed "really unfortunate timing" for the move, with Murphy renegotiating his contract with Fox just as Disney's acquisition plans emerged.
"If this merger had already happened and Ryan was comfortable with the management, then we probably would have been able to close a deal with him," he said. "We were prepared to step up and really financially reward him in a way that would have been pretty meaningful."
Newman, who has led 20th Century Fox Television since 1999 with Walden in one of the industry's most enduring partnerships, said broadcasters face "new challenges" in the current climate of consolidation, but maintains his belief in the broadcast model.
"There is no platform that is more lucrative and culturally resonant than broadcast television," he declared.
"The series that people do with us get promoted like crazy for months at a time as they play out over a season. It keeps a show in front of the country for a long time. Shows such as This is Us, Modern Family and Glee have lasting social impact and I think most writers value that."
Newman and Walden have said that they will remain at Fox until the deal closes in around 10 to 16 months, at which point they will assess their options.
While there will be "great opportunities at Disney", Newman highlighted that 'New Fox' – the assets excluded from the Disney deal, which include the Fox network and Fox News – "will be very entrepreneurial and do things differently from others".
The 60% of Hulu that Disney will acquire following the deal is also a "valuable part of what the business is hoping to get out of the merger," said Newman.
"Hulu has had tremendous growth in recent months and has 17m subscribers – that is a fantastic head-start," said Newman. "There are players trying to get in the SVoD business who are starting from tens of thousands of subscribers."
In-season stacking
As the US networks prepare for pilot season, in-season stacking rights are again predicted to become a sticking point, both with the studios, which want to sell full seasons of shows to SVoDs, and with broadcasters, who want to provide entire boxsets while a show is on-air.
Netflix will often pay less for shows that have been made available in their entirety during the season on a US broadcaster's on-demand platform, causing studios to push back on handing broadcasters these in-season stacking rights.
Newman was one of the "architects" of the rolling-five system – a widespread US model in which the five most recent episodes of a show are made available on-demand – but now says that boxsetting is becoming an "indisputable" trend as viewers "stretch out" the period over which they watch shows.
"If viewers want to join in but are not able to find the first episode, it just does not make sense. It is not what the consumer wants," he said.
"What we have said to studio suppliers is that at the end of the season or the start of the next, they can go out and sell the SVoD rights. The broadcaster pays for the [boxset rights], so we are striking a reasonably good compromise between competing interests."
Entertainment needs
Newman admitted that Fox has been "challenged" on the unscripted front, most recently losing singing competition American Idol to rival broadcaster ABC, which launched the reboot earlier this week.
The division received a boost in last year's appointment of British exec Rob Wade as president of alternative entertainment and specials.
"The British market is a fantastic one for unscripted so Rob brings a lot of formats for us to look at," said Newman.
"Generally, broadcasters are looking to create their own originals instead of utilizing formats, because it gives them greater ownership opportunities and ancillary revenues, but a blend of those things is the way for Fox to go because we really need to grow that business, and the British market is one where we can find a lot of nuggets that can work for us."
Fox recently greenlit a pilot of Znak & Co's competition series Revolution for Sky. In Jerusalem, the broadcaster revealed that it is piloting Tuesday's Child's gameshow Man Vs Robot, in which families compete against large-scale robots.
Newman also told Broadcast that Fox "has been looking at" ITV Studios Global Entertainment's Love Island format. The broadcaster aired Temptation Island, which has drawn comparisons to the ITV2 show, from 2001 to 2003.
"We watched Love Island and really liked it. However, for our network, it felt a little young, because pretty much everyone is in their 20s. Although Fox is the youngest of the four broadcasters in the US, our median age is 49 years old. But we are still looking at it."
The exec said Fox want to find its "niche" in the dating social interaction genre.
This story first appeared on Screen's sister publication Broadcast.