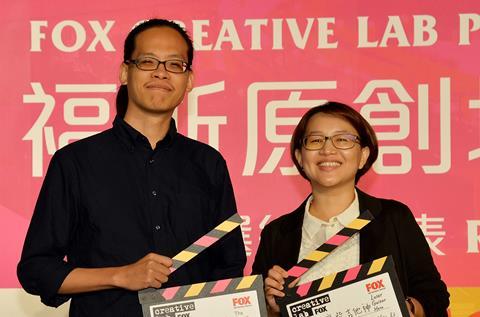 Fox Networks Group Asia (FNGA) has awarded script development deals to two emerging Taiwanese writer-directors, Jimmy Hsu and Nien Hsiu Li, at its inaugural Fox Creative Lab in Taiwan.
Hsu and Li were selected from a group of five Taiwanese directors who participated in the four-month talent development initiative in both Taipei and Los Angeles.
Hsu's winning project, The Fourth Victim, is a crime mystery drama about a forensic scientist's investigation into a serial suicide. As the investigation progresses, he discovers his long-lost daughter is involved, and her mysterious past is slowly unraveled.
Li's Loser Guitar Hero is a comedy drama about a forty-year-old struggling electric guitarist whose life is disrupted when his eleven-year-old niece, an internet celebrity, moves in to live with him.
Li previously received a Golden Horse Award nomination for film editing for Hip-Hop Storm (2010), while Hebei Taipei (2015), which she directed, was awarded best documentary in the Taipei Film Awards. Hsu previously won several awards for his short films including Cocoon (2015), My Funeral (2016) and The Flame (2018).
The other three directors who participated in the Lab, Laha Chen, Howard Cheng and Charles Sun, will receive a first-look agreement with FNGA to option their original and new scripts.
"We are very pleased with the outcome of the first Fox Creative Lab in Asia," said Cora Yim, FNGA senior vice president and head of Chinese Entertainment and Original Productions.
"The two winning projects feature great characters, unique storylines, above all, local relevance with global appeal. These are the elements we are looking for as we expand our original Chinese content production."
Fox Creative Lab is an extension of the 21st Century Fox Global Inclusion talent development initiatives, which aim to strengthen the pipeline of original content for FNGA and increase the diversity of ideas in Asia's film and TV industry.
Guest speakers at lab in LA included Jonnie Davis and Terence Carter from 20th Century Fox Television, Caroline Bernstein from National Geographic Partners, Gloria Fan from Fox 21 and Danny Samit and Lindsay Donohue from FX.
Members of the jury for the development awards included Melvin Mar, executive producer of Fox's Fresh Off The Boat, and Philip Rosenthal, writer/producer of Everybody Loves Raymond.