The Godfather director talks new Italian-American saga, risk-taking and how George Lucas got "lost" in Star Wars.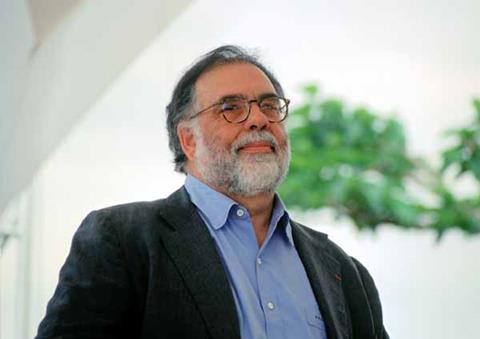 Francis Ford Coppola's next film may be his last. But it may also be one of his most ambitious.
Speaking at the Marrakech International Film Festival (Dec 4-12), the 76-year-old director of The Godfather trilogy revealed details of the new multi-generational Italian-American saga he is developing, titled Distant Vision.
Coppola compared the project to novelist Thomas Mann's family saga Buddenbrooks.
"I may only make one film more in my life, but it may be very long, and it may go in different places," said the five-time Oscar winner."It's sort of like Buddenbrooks because it's about three generations of a family.
"It happens during the birth of television; the growth and omnipresence of television and finally the end of television as it turns into the internet. Then I decided that I wanted to do it as live television."
It is, he conceded, "very different from a normal film".
Coppola staged Distant Vision as a live performance piece at Oklahoma City Community College in June, and streamed to private showings in Paris, New York, Los Angeles.
Take more risks
During the Marrakech interview, Coppola lobbied passionately for experimentation and risk-taking in cinema, something that he claims is at odds with the financial pressures of the mainstream movie industry.
When asked about the potential for experimentation in television compared to filmmaking, Coppola was keen to play down the delineation between the two.
"It has all become one," said the director, whose last film was 2011 horror Twixt. "There is no more film, there is no more television – there is cinema. And it can be everywhere and anywhere and it can do anything."
In a manifesto that may strike fear into the hearts of potential financiers, the director was bullish about the commercial uncertainties of such unconventional filmmaking.
"I feel that it's essential that we have to risk failure - with all art," he stated. "You can't start to make a big project which has 100% no risk. How do you make a film like The Godfather? Risk."
Future for cinema
"Someone recently asked me, 'Is there a future for cinema?'. Of course there is," Copolla reassured. "The films your grandchildren will be watching and making, you can't even imagine what they will be like.
"We have had so many great films made so far, it's hard to imagine that films won't always be like that. But you can't get there without experimentation. And experimentation means you might fail."
Of the filmmakers currently working, Coppola singled out writer/director/actress Sarah Polley, citing Stories We Tell as an example of the kind of daring approach that he advocates.
It is an approach that he accepts is not going to be widely accepted in the mainstream industry. "The big films will always just be imitations of other big films," added the director.
George Lucas
Among experimental directors to get sucked into the mainstream vortex was George Lucas, said Coppola, a long-time friend of the Star Wars creator.
"I think Star Wars, it's a pity, because George Lucas was a very experimental crazy guy and he got lost in this big production and never got out of it," Coppola reflected.
"I still hope that he made so much money out of it that he will just make some little movies. He promises me that he will."