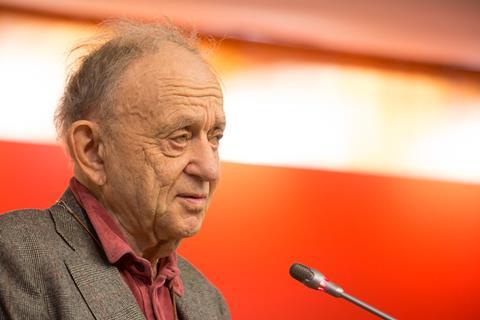 Celebrated documentarian Frederick Wiseman will be feted with the Carrosse d'Or award of Cannes Directors' Fortnight this year, French directors guild the Société des Réalisateurs (SRF) has announced.
The US, France-based filmmaker will receive the award on the opening night of the 53rd edition of the parallel section, running July 7 to 17.
The SRF, which oversees the section, praised Wiseman for his "astoundingly rich body of work" that had left an "indelible mark" on the history of cinema.
"Never has anyone laid such patient, humane, curious, understanding, empathetic and politically acute eyes on people and the institutions helping them, holding them back or revealing them," read a joint statement signed by SRF board members including Thomas Bidegain, Lucie Borleteau, Romain Cogitore, Axelle Ropert and Claire Simon.
The Carrosse d'Or began in 2002 to honour filmmakers in the international filmmaking community whose work is marked by innovative qualities and "an uncompromising, daring spirit in directing and production".
The honoree is usually also celebrated with a screening of one of their works. This has yet to be decided and will be unveiled at the Directors' Fortnight announcement of its selection on June 8.
The last recipient was John Carpenter in 2019 with previous honorees including Martin Scorsese, Werner Herzog, Jane Campion and Naomi Kawase.
Two of Wiseman's past films screened in Directors' Fortnight in the past: Boxing Gym played in 2010 and his three-hour work National Gallery was selected in 2014.
He has also played in Official Selection. Rare fiction feature The Last Letter screened Out Of Competition in 2002 while his 1970 Emmy-awarded documentary Hospital played in Cannes Classics in 2016.