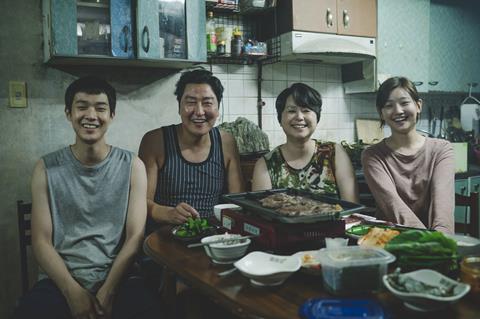 French distributor The Jokers is readying a French-language dubbed version of of Bong Joon Ho's Palme d'Or-winning black comedy Parasite following its runaway box office success in France.
The film has made history for an Asian arthouse film in France last week hitting the 1m spectator mark on July 3, after its fourth week on release since it was launched in French cinemas on June 5.
As of July 8, the subtitled version had drawn just over 1m spectators for an approximate box office of $8m* (€7.2m) and was playing on 727 screens.
The results come amid a bumper June for the French box office which saw an 23.7% increase in spectators to 12.4 million for the month, after a calamitous summer period last year due to a heatwave and the football world cup.
It is rare for a French distributor to go to the trouble of dubbing a foreign-language arthouse film into French.
The Jokers founding chief Manuel Chiche said the new dubbed version will be ready by the end of July and is aimed at more commercial multiplex venues that only show French language or dubbed features.
"We thought that when a film is so popular and there is such strong word of mouth as is the case with Parasite, it was worth giving it a try," said Chiche.
"It's a test," he cautioned, however. "The film will have been in cinemas for the best part of two months by that time, after all, but we're hoping there will be market for spectators who have heard about the film but are wary of subtitles."
"We've used top dubbing actors, the same ones who dub the mainstream titles showing in French cinemas, casting the best voices for the characters."
Chiche added The Jokers had already received interest from multiplexes for the French version but that there were no firm bookings as yet.
Prior to the release of Parasite, the most successful Korean success at the French box office was Bong's Snowpiercer. It drew some 650,000 spectators for Wild Side Films and Le Pacte in 2013, which co-distributed.
The third most successful Korean film in France to date is Im Kwon-taek's 2002 Drunk On Women And Poetry, which drew some 316,000 spectators, followed by Park Chan-wook's 2016 The Handmaiden (300,000) and Yeon Sang-ho's 2016 Train to Busan (275,000). Lee Chang-dong's Burning sold 201,000 tickets.
The latest box office numbers for Parasite also make it one of the most successful recent Palme d'Or winners, ahead of I, Daniel Blake (955,000 admissions, Le Pacte), The Tree Of Life (873,000, EuropaCorp), Shoplifters (778,000, Le Pacte) and Amour (767,000, Les Films du Losange).
Parasite has now taken nearly $71m on theatrical release in its native Korea after five weeks on release and $500,000 in Australia, the thrid major territory in which it has been released two weeks ago.
*As France reports box office in admissions, Screen has reached the dollar gross by multiplying the number of admissions by the 2019 average ticket price, according to the CNC, of €6.64.