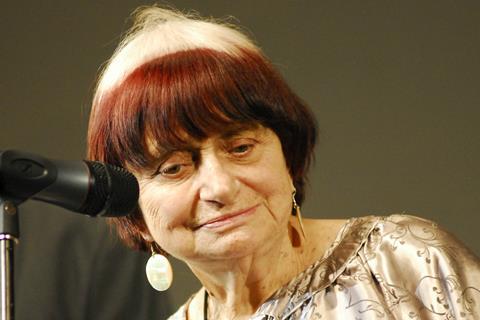 Agnès Varda, the Belgian-born director whose work played a pivotal part in the French New Wave, has died aged 90.
She died shortly after being diagnosed with cancer, according to a statement from her family given to French news agency AFP. It said: "The director and artist Agnès Varda died at home on Thursday night due to cancer, with her family and loved ones surrounding her."
Her death comes just weeks after Varda put in a fitting final appearance at the Berlin International Film Festival with the documentary Varda By Agnès.
An extended filmed masterclass of sorts, it featured Varda giving personal insights into both her cinematic and artistic work and her peripatetic life which saw her travel from her home in Rue Daguerre in Paris, across France and further afield to the US and Asia.
Busy right up until her final weeks, Varda had to cancel a planned to trip to the Doha Film Institute's talent development event Qumra at the beginning of March after her doctors advised her against the trip.
In a short, filmed message to the attendees, she expressed her regret at not being able to join the meeting for a moment of "inspiration, creation and sharing".
From photography to cinema
Born in Brussels in 1928 to a French mother - hailing from of Sète in southern France- and a father of Greek origin, Varda moved to Paris after high school where she studied literature and psychology at the Sorbonne.
Her move into filmmaking was a gradual and spontaneous one after she took a photography course and went on to to do a degree in the subject at the Ecole des Beaux-Arts in Paris.
On completing her studies, she made her living as a commercial photographer, working for advertising agencies, magazines and theatre companies.
Her desire to play with moving images, she said later, came from her sense that the most interesting parts of a shoot always took place in between the shots.
Varda took the plunge into film-making in 1955 with the self-financed black- and- white, stylistically shot La Pointe Courte, following two lovers as they agonise over whether to stay together against the backdrop of the then simple fishing port of Sète.
It starred the late actor Philippe Noiret, who went on to make Nuovo Cinema Paradiso, and Il Postino, in his first big screen appearance and featured Alain Resnais as the editor.
The film won praise from director François Truffaut and renowned critic and Les Cahiers du Cinéma co-founder André Bazin but flopped at the box office when it was released.
It would be another seven years before Varda made a second fiction feature in the shape of her breakthrough work Cléo From 5 to 7 following a popular singer as she awaits the results of a biopsy.
In between times, Varda was busy making documentaries and experimenting with the art of capturing life around her. This mixing of genres and projects was a characteristic of her filmmaking throughout her life.
Premiering at the Cannes Film Festival in 1962, the film would secure Varda a place as one of the only female directors celebrated today as being part of the French New Wave movement.
Alongside the star Corinne Marchand and recently deceased composer Michel Legrand, in the role of Bob, the Pianist, the film's cast also featured a number of filmmakers and actors emblematic of the French New Wave in uncredited roles including Jean-Luc Godard, Anna Karina and Jean-Claude Brialy. Marin Karmitz, founder of the MK2 film company, was assistant director on the picture.
At the time, it was highlighted for its naturalistic and spontaneous feel and use of handheld camera and natural light - techniques which are used regularly in filmmaking today.
Varda followed Cléo From 5 to 7 with the romantic drama Le Bonheur in 1965, starring Jean-Claude Drouot as a happily married carpenter who complicates his life when he falls for another woman.
It premiered at the Berlinale, winning the Silver Bear.
In the late 1960s, early 1970s, Varda lived on-and-off in Los Angeles while her husband,The Umbrellas Of Cherbourg director Jacques Demy, attempted to break into Hollywood with films such as Model Shop.
Varda carried on making short documentaries such as The Black Panthers and also frequented the Hollywood hippy scene of the time, becoming friendly with The Doors frontman Jim Morrison.
Although neither she or Demy ever made it in Hollywood in the studio sense of the word, this time spent in Los Angeles left Varda with a strong connection to the US.
The next highlight of her feature filmography was the 1984 work Vagabond (Sans Toi, Ni Loi), starring Sandrine Bonnaire as a footloose young woman who works as a casual agricultural labourer and refuses to be tied down by convention.
It is perhaps one of Varda's most feminist works although most of her filmography is shot with a deliberate but seemingly unconscious female gaze.
Death of Demy
The early 1990s were consumed with the events surrounding Demy's illness and then death from AIDS.
Spurred on by his diagnosis, Varda made the film Jacquot de Nantes, capturing Demy's childhood in the city of Nantes in the 1930s, enlisting friends and family to help get the film made while the director was still alive.
It would be her penultimate fiction feature ahead of Les Cents Et Une Nuits De Simon Cinéma a tribute to cinema history featuring Michel Piccoli, Marcello Mastroianni, Alain Delon, Jeanne Moreau and Hanna Schygulla in the cast.
In the final two decades of her life, Varda devoted herself to documentaries and artistic projects, constantly renewing her work through her ability to capture the zeitgeist and collaborations with younger artists.
Highlights of her later filmography include The Gleaners & I, and the follow-up film The Gleaners & I: Two Years Later, about people living off the produce and goods discarded by others. Both films still play regularly at film festivals around the world.
Never really going out of fashion, Varda's cult status was fuelled in the final years of her life by joint work Faces Places with photographer and muralist J.R., capturing their friendship and exploration of France.
She was nominated for an Oscar for the work in the 2018 awards alongside J.R. and her daughter Rosalie Varda, making her oldest person to ever receive a nomination at the age of 89.
The film did not win a prize but the Academy of Motion Picture Arts and Scientists feted the filmmaker with a special honorary life-time achievement award instead.
Varda is survived by her daughter Rosalie Varda and son Mathieu Demy.
Tributes
For my shooting star wherever you are… Agnes Varda ❤️ pic.twitter.com/M92Ha2VXky

— JR (@JRart) March 29, 2019
"I feel that between weight and lightness, I choose lightness. And I feel I'm dancing, the dance of cinema."

Accepting an honorary Oscar in 2017, Agnès Varda brought warmth to the room & proceeded to dance onstage.

Thank you for your vision, Agnès. We know you're still dancing. pic.twitter.com/ge43gXkXGN

— The Academy (@TheAcademy) March 29, 2019
Last year at Cannes, Agnès Varda invited me to breakfast. She spoke of how she was in the last year of her life. About choices. And change. I told her what she meant to me. She held my hand as I did. Merci, Agnes. For your films. For your passion. For your light. It shines on. pic.twitter.com/NP2FSJACY9

— Ava DuVernay (@ava) March 29, 2019
Agnes Varda. We will always love you. You and your films will never be forgotten. Thank you for everything. https://t.co/lL6WdNaxbR

— Carol Morley (@_CarolMorley) March 29, 2019
Work and life were undeniably fused for this legend. She lived FULLY for every moment of those 90 damn years 😻 pic.twitter.com/SHnRbGoDmr

— Barry Jenkins (@BarryJenkins) March 29, 2019
Our grandmama of the French New Wave has passed on. So much love and so much spirit, for life and for cinema! Thank you and goodbye 🎬 #agnesvarda#RIPpic.twitter.com/uIUfsau5cu

— Anthony Chen (@anthonychenz) March 29, 2019
Immense sadness. For almost 65 years, Agnès Varda's eyes and voice embodied cinema with endless inventiveness. The place she occupied is irreplaceable. Agnès loved images, words and people. She's one of those whose youth will never fade. pic.twitter.com/cpquJXJtwK

— Festival de Cannes (@Festival_Cannes) March 29, 2019
She wasn't a cute old lady.
She was a great artist. She had the instincts, the wit and the generosity to her make art anywhere, and offer it to all of us.
For decades she didn't get her due, because she was a woman, because she was kind. Rest in power, Agnès. pic.twitter.com/d2hzywUtHG

— Cameron Bailey (@cameron_tiff) March 29, 2019
« les femmes n'ont pas le même rapport au pouvoir ». Elle voyait bien les choses, Agnès Varda, et elle les exprimait simple et directe. Merci à elle. Que d'autres femmes artistes se lèvent dans son sillage ! https://t.co/ohO25lTxNP

— Ségolène Royal (@RoyalSegolene) March 29, 2019
Only a few weeks ago we had the honor to award her with the #BerlinaleCamera at #Berlinale2019. Today, we're deeply saddened by her loss: #AgnèsVarda, one of the most significant filmmakers of French cinema, passed away at the age of 90. https://t.co/28MvQ6PlpO
© Gerhard Kassner pic.twitter.com/AmeZlnudtL

— Berlinale (@berlinale) March 29, 2019
Farewell to one of my favorite filmmakers— Agnes Varda 🎥🖤always a curious, creative, child like spirit to the last. moment. We will miss you!! #agnesvarda #rip pic.twitter.com/vjNMhr2apq

— Madonna (@Madonna) March 29, 2019
Agnès Varda (1928-2019).https://t.co/BiwC6iviG3pic.twitter.com/2GI6HjyqK9

— Mads Mikkelsen Official (@theofficialmads) March 29, 2019
Adieu Agnès Varda. Thanks for that "Nouvelle Vague", fresh and eternal.
RIP

(Photography Andreas Laszlo Konrath) #AgnesVardapic.twitter.com/T40giEGjwP

— Antonio Banderas (@antoniobanderas) March 29, 2019