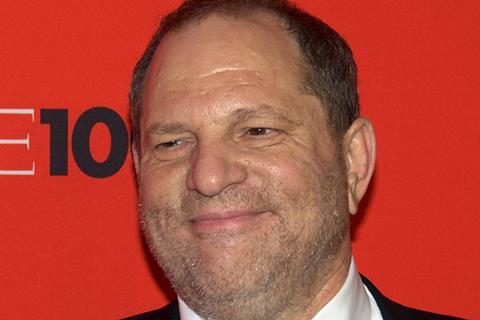 French president Emmanuel Macron announced on Sunday that France is likely to strip Harvey Weinstein of his Legion of Honour, following multiple accusations against the former Hollywood film mogul of rape and sexual assault.
Weinstein was presented with the honour – France's highest order of merit for military and civilians – at the presidential Elysée Palace in 2012 by then-president Nicolas Sarkozy, following the multi-Oscar triumph of Michel Hazanavicius's The Artist, which Weinstein helped engineer.
Macron was quizzed about the Weinstein affair in his first live, televised interview since being elected president in May.
"Yes, I've taken steps to revoke the Legion of Honour," Macron said. "In any case, I asked the grand chancellor of the Order to set in motion a disciplinary procedure. He will make the decision."
Weinstein is among a long line of US cinema figures to receive the Legion of Honour alongside Kirk Douglas, Clint Eastwood, David Lynch, Arnold Schwarzenegger, Martin Scorsese and Steven Spielberg.
Macron's announcement came amid proliferating accusations of rape and sexual assault from actresses and cinema professionals around the globe against Weinstein.
In the UK, London's Metropolitan police said in a statement on Saturday that it was investigating five allegations of sexual assault by three women against the disgraced producer and executive.
France has also been drawn into the affair. In an editorial in The Guardian on Wednesday, actress Lea Seydoux recounted how Weinstein lunged at her and attempted to kiss her during a meeting in Paris.
The Weinstein revelations have also prompted the French film industry to take a close look at its own sexual politics. In the same editorial, Seydoux talked about three other occasions when directors had attempted to force themselves on her while she was a young actress in her mid-20s. At least two of them are believed to hail from the French film world. "If you're a woman working in this milieu, you have to fight because it's a very misogynist world," she wrote.
In an editorial in French Sunday newspaper Le Journal du Dimanche, actress Isabelle Adjani accused the French film industry of being equally complicit in a predatory system in which actresses were expected "to give a little bit of themselves in return for a lot back."
"France is just as slippery," Adjani wrote. "In France, there are three Gs: galanterie, grivoiserie, goujaterie (gallantry, sauciness and boorishness)… Slipping from one to the other to the point of violence on the pretext that it's a game of seduction is one of the arms of predators and harassers."
The implications of the Weinstein revelations have also spilled out beyond the film world. In a related initiative, Sandra Muller, the founding editor of French TV trade newsletter La lettre de l'audiovisuel, created the hashtag #balancetonporc, which translates as #denounceyourpig, calling on victims of sexual harassment to denounce "their tormentors".
She kicked off the campaign with two denouncements of her own against high-ranking TV executives. The initiative, which is still running, prompted 60,000 tweets in the space of two days.