London-based genre festival to feature 19 world premieres and 35 UK & European premieres.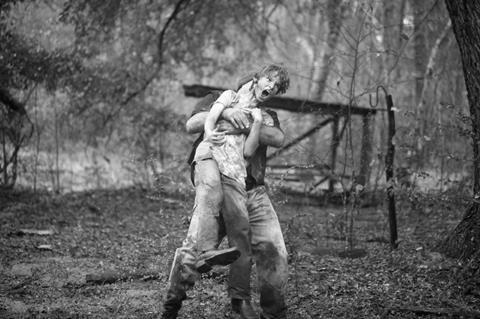 Horror Channel FrightFest has unveiled the line-up for its upcoming 17th edition, taking place at its new home of the Vue Shepherd's Bush from Aug 25-29.
Sean Brosnan's revenge thriller My Father Die [pictured] receives its European premiere as the opening film, while the UK premiere of Sang-ho Yeon's Cannes title Train To Busan closes this year's festival.
In total, the 62-strong feature line-up includes 19 world premieres and 35 UK & European premieres. Ivan Silvestrini's Monolith, Tricia Lee's creepy chiller Blood Hunters and Nick Jongerius' gory The Windmill Massacre are among the world premieres.
Meanwhile, Adam Wingard's eagerly anticipated The Woods will receive its European premiere in the Main Screen strand, playing alongside the likes of Stephen King adaptation Cell, Italian box office hit They Call Me Jeeg Robot and Cody Calahan's Let Her Out.
Other Main Screen titles include Rob Zombie's 31, Darren Lynn Bousman's Abbatoir, Jackson Stewart's Beyond The Gates, Simon Rumley's Johnny Frank Garrett's Last Word and Craig Anderson's Red Christmas.
Festival changes
Talking to ScreenDaily, FrightFest co-director Alan Jones explained that despite the relocation, they've been conscious not to change too much about the festival's structure.
"We've had to bear in mind that we can't have too many changes at one particular time," he noted. "Our audience wants their seat throughout the festival, but they also want the freedom to go into the Discovery Screens as well."
It means that the previous structure of the Main Screen strand playing across three screens for passholders will be the same, just with the possible addition of a fourth screen showing the same programme for single ticket holders.
One big change allowed by the relocation has been the opportunity to put on repeat screenings. "Last year, people were disappointed that they couldn't get to see as much as they wanted. This year, we have the time and space that if some films do sell out, we will put on extra screenings of them," Jones outlined.
He added that the line-up for this year's edition includes a lot of "under-the-radar" genre efforts and if there's a trend to be found, it's in the diverse subject matter of the features selected.
"We have so many different things. OK, we've got the usual quota of zombie films, but the range of subjects this time is just quite amazing," Jones teased. "There are a couple of British movies that are just so good, they are going to blow people away."
British titles
This year's edition will showcase 12 world premieres of British genre films, five of which make up the festival's 'First Blood' strand focused on the debut features of home-based directors.
Titles include Shaun Robert Smith's Broken, Wyndham Price's dark fantasy Crow, Kate Shenton's Egomaniac, Ben Parker's The Chamber, Lawrie Brewster's PTSD-inspired The Unkindness Of Ravens, Stewart Spark's The Creature Below and Andy Edwards' Ibiza Undead.
FrightFest will also be presenting seven films from South America, featuring the likes of Daniel de la Vega's White Coffin, Patricio Valladares' Downhill, Isaac Ezban's 60s sci-fi homage The Similars and Emiliano Rocha Minter's Cannes title We Are The Flesh.
Anna Biller's The Love Witch, Tim Reis' Bad Blood: The Movie, Steven DeGennaro's Found Footage 3D, Ali Abbasi's Berlin hit Shelley and Shelden Renan's controversial documentary The Killing Of America are among the films in the Discovery Screen strand.
Special events, retrospective screenings, guests and the Short Film Showcase titles for this year's FrightFest will be announced in the coming weeks. Festival and day passes go on sale tomorrow [July 2] at noon and will only be available to buy online.
Screen International is the official media partner of this year's Horror Channel FrightFest, offering digital dailies during the festival, chairing a panel about the future of British horror and hosting the Director's Lunch.
Full line-up
WP - world premiere; EP - European premiere; UK - UK premiere
Main Screen
My Father Die, Sean Brosnan (EP)
Cell, Tod Williams (UK)
Let Her Out, Cody Calahan (EP)
From A House On Willow Street, Alastair Orr (WP)
The Chamber, Ben Parker (WP)
Mercy, Chris Sparling (EP)
They Call Me Jeeg Robot, Gabriele Mainetti
Pet, Carles Torrens (UK)
White Coffin, Daniel de la Vega (UK)
The Rezort, Steve Barker
Abattoir, Darren Lynn Bousman (EP)
The Master Cleanse, Bobby Miller (EP)
The Woods, Adam Wingard (EP)
Beyond The Gates, Jackson Stewart (EP)
Blood Feast, Marcel Walz (WP)
Downhill, Patricio Valladares (UK)
Johnny Frank Garrett's Last Word, Simon Rumley (WP)
Broken, Shaun Robert Smith (WP)
Realive, Mateo Gil (EP)
31, Rob Zombie (UK)
The Windmill Massacre, Nick Jongerius (WP)
Monolith, Ivan Silvestrini (WP)
Director's Cut, Adam Rifkin (EP)
Red Christmas, Craig Anderson (EP)
Train To Busan, Yeon Sang-ho (UK)
Discovery Screen
Through The Shadow, Walter Lima Jr (UK)
Enclosure, Patrick Rea (WP)
Ibiza Undead, Andy Edwards (WP)
Night Of Something Strange, Jonathan Straiton (EP)
The Devil's Candy, Sean Byrne
Attack Of The Lederhosen Zombies, Dominik Hartl (UK)
Offensive, Jon Ford (WP)
The Love Witch, Anna Biller
Knucklebones, Mitch Wilson (WP)
Let's Be Evil, Martin Owen (EP)
Egomaniac, Kate Shenton (WP)
Crow, Wyndham Price (WP)
Bad Blood: The Movie, Tim Reis (EP)
We Are The Flesh, Emiliano Rocha Minter
Blood Hunters, Tricia Lee (WP)
Francesca, Luciano Onetti
Another Evil, Carson D. Mell (UK)
Population Zero, Julian T. Pinder (EP)
Benavidez's Case, Laura Casabe (UK)
The Similars, Isaac Ezban (UK)
Cruel Summer, Phillip Escort (WP)
House Of Salem, James Crow (WP)
The Creature Below, Stewart Sparke (WP)
The Unkindness Of Ravens, Lawrie Brewster (WP)
Hallows Eve, Brad Watson (WP)
The Unravelling, Thomas Jakobsen (UK)
Paranormal Drive, Oleg Assadulin (EP)
Here Alone, Rod Blackhurst (EP)
The Evil In Us, Jason William Lee (UK)
Road Games, Abner Pastoll
Hostage To The Devil, Marty Stalker (WP)
Lost Solace, Chris Scheuerman (EP)
The Killing Of America, Sheldon Renan (UK)
Fury Of The Demon, Fabien Delage (UK)
Beyond The Walls, Hervé Hadmar (UK)
Karaoke Crazies, Kim Sang-Chan (UK)
Man Underground, Michael Borowiec (EP)
Shelley, Ali Abasi (UK)
Found Footage 3D, Steven DeGennaro (EP)