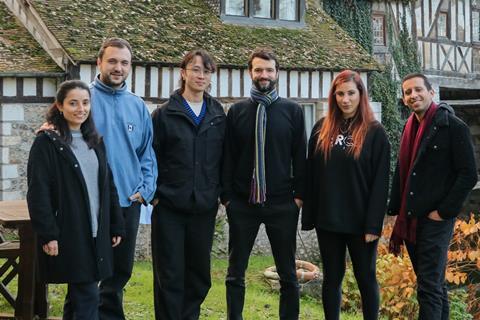 Cannes' Critics Week has wrapped the ninth edition of its Next Step programme which helps short film directors from its past festival selections make the leap between short and feature films.
This year's crop of aspiring filmmakers included Portugese director Sofia Bost, Mexican filmmaker Jorge Sistos Moreno, British filmmaker Joseph Pierce, Greek filmmakers Evi Kalogiropoulou and Manolis Mavris, and Chinese directors Lin Tu and Hao Zhao.
The group headed to France from December 3-9 with their feature film projects, first at the Moulin d'Andé residence in Normandy for writing workshops then to Paris to consult with industry insiders and present their projects to international professionals.
Filmmakers spent the week reworking their projects and one will receive the Next Step Hildegarde Award at the upcoming 2023 Cannes Film Festival along with a €2,500 grant.
In addition, two directors will be chosen for a three week-long residency – one at the Moulin d'Andé complete with screenwriting sessions and the other at a to-be-determined location via the Pop Up Film Residency.
Participating directors
Portugese filmmaker Sofia Bost brought her feature I Don't Know Where I'm Going produced by Uma Pedra No Sapato's Filipa Reis. The complex family drama is a coming-of-age story set in 1997 on the outskirts of Lisbon.
Greek director Evi Kalogiropoulou came with her dystopian drama Cora, produced by Greece's Neda Film alongside France's Blue Monday Productions and the Netherlands' Lemming Film. Set in an oil refinery in the uber-industrialised Greek heartland, Cora tells the story of two working-class women, Maria and Eleni, fighting for their freedom and identity.
Also from Greece, Manolis Mavris was in town with Liar Man, produced by US production company 2AM's Julia Oh and Zack Nutman. Set in a holiday resort for rich tourists during the 1970s, the film is a conceptual yet playful parable of contemporary life on the verge of psychological and political collapse.
British filmmaker Joseph Pierce brought his animated adaptation of UK author Will Self's book How The Dead Live about a woman dying of cancer who encounters the afterlife and yearns to return to the world of the living. The feature is produced by Hélène Mitjavile of France's Melocoton Films.
Mexican filmmaker Jorge Sistos Moreno brought La Ausencia produced by Mexican-American company Espejo Humeante Films. Set in 18th century Mexico, the female empowerment film follows a young, married woman who contracts syphilis from her husband and must face patriarchal violence and religious inquisition in a society that sees her as a witch.
From China, director Lin Tu's Suli follows a young Chinese woman who works as a teacher in Southeast Asia and struggles to fit in to in an institution where male hostility reigns supreme. The film is produced by Sydney Lee of One's Young. Tu is the only filmmaker unable to attend the event in person due to strict Covid protocols in China, but participated in the full programme via video call from afar.
Hao Zhao did make it to France with his If I See A Rainbow, based on a short story by contemporary novelist Wang Zhanhei that follows its main character over several years, a young woman stuck in a listless marriage in the outskirts of Shanghai as she seeks to free herself from her situation. The feature is produced by Wang Yang of Chinese-French company Memoria Films.
Female empowerment
Programme director Thomas Rosso said the fact that most of this year's feature projects happen to deal with female empowerment themes is purely coincidental, but perhaps owes to both a 50-50 parity among the sidebar's selection committee and the fact that the programme is geared towards a younger demographic. "It wasn't intentional. We reflect the themes that move the young generation. We don't have an editorial agenda – we simply want to reflect the diversity of today's filmmakers," he said.
As for the strong showing from both Greece and China, Rosso said: "Young Greek cinema is very strong at the moment – this is a generation that has a lot of things to say and it's really starting up again. The vitality of Chinese cinema continues to be challenged by Covid, but it is extraordinary in particular since short film is not subject to government censorship like features so there is a huge variety of talent and creativity."
The Next Step initiative was founded by former Critics' Week programme manager Rémi Bonhomme - who has since left to take on the artistic direction at the Marrakech Film Festival – to prolong the experience in Cannes in May. Rosso arrived in 2020.
Rosso said the timing, six months after the May festival, just before Les Arcs and ahead of Berlin, gives participants a chance to "really work together in collective sessions since they really have no time for that in Cannes. Here, there can dive into their projects and really bond."
Track record
Over its eight editions, the Next Step programme has supported 72 filmmakers, 42% of whom are women, from 35 countries. This year's fourth annual Next Step award went to Lithuanian director Vytautas Katkus for upcoming feature The Visitor. The film will also be at Les Arcs Co-production Village that kicks off over the weekend in the French mountain resort town.
In 2022, the films developed as part of Next Step were selected by festivals across the globe including Michael Borodin's Convenience Store which screened in Berlin, Valentina Maurel's I Have Electric Dreams in Locarno where it won prizes for best director, actor and actress, and Isabella Carbonell's Dogborn and Graham Foy's The Maiden in Venice where the latter won the Cinema of the Future award at the Giornate degli Autori.
Filmmaker Mikko Myllylahti's feature debut The Woodcutter Story, which won the inaugural Next Step award in May of 2019, premiered at Critics' Week this year alongside Alma Viva from Franco-Portugese director Cristèle Alves Meira, a 2016 Next Step programme alum. Twelve features that went through Next Step are currently being shot or are in post-production.
Flexible programme
Participants don't necessarily attend the programme in the same year that their short films screen in Cannes.
"The idea is to adapt to the needs of each person," Rosso said, adding that the programme works around each director's particular plans, but remains focused on helping them to make the transition from short film production to their first feature.
Molly Manning Walker's UK film How to Have Sex, for example, won the 2020 Next Step prize and is currently in production with MK2 on board handling international sales.
Chinese director Qiu Yang's Some Rain Must Fall was a Next Step 2020 participant and the film is co-produced by France's Why Not Productions and sold by Wild Bunch.
This year, around 40 production, sales and distribution companies came to meet the selected filmmakers including Charades, MK2, Totem, Bac Films and Memento.
Consultants and experts included script consultants Nadja Dumouchel, Philippe Barrière, Matthieu Darras, Fabio Grassadonia and Matthieu Taponier and production consultant Gabrielle Dumon alongside sales consultants MK2's head of acquisitions Olivier Barbier and Totem Films founder Agathe Valentin.
Organisers are dedicating the 2022 edition to the Moulin D'Andé founder Suzanne Lipinska who passed away in late September of this year. The famed writers residence has been a refuge for acclaimed filmmakers including Louis Malle, Alain Cavalier and François Truffaut who even shot scenes from Jules And Jim and The 400 Blows there.
Supported by state film organisation the CNC and music writers and composers' rights group Sacem, the programme also included a session on film soundtracks to foster directors' attention towards music scoring and to initiate a discussion on the musical and sound universe of their feature film project.
"This works really well because it sensitises the directors from the beginning to the role of music in their films instead of leaving it until the end with the remaining budget," Rosso said, adding that "it allows them to escape into another form of art."