Leading pan-Arab distributor adds 24 titles to slate.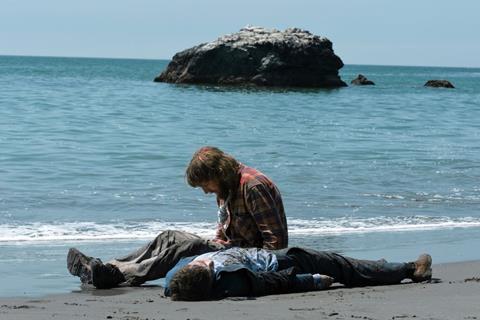 Middle East distributor Front Row Filmed Entertainment has announced the acquisition of 24 titles from last month's Cannes Marche, including Oscar-nominated Denis Gamze Erguven's Kings, which stars Halle Berry and was one of the most buzzed about projects of the market.
It was among a trio of titles acquired with Beirut-based Teleview International from Wild Bunch offshoot Insiders, alongside David Robert Mitchell LA-set crime thriller Under The Silver Lake, starring Dakota Johnson and Andrew Garfield; and Lynne Ramsay's You Were Never Really Here, starring Joaquin Phoenix as a war veteran who tries to save women trapped in the world of sex trafficking.
Other buzzy acquisitions for the Dubai-based distributor included quirky Sundance comedy Swiss Army Man, starring Paul Dano as a shipwrecked man who befriends a corpse played by Daniel Radcliffe, from New York-based distributor A24.
In its first-ever deal with Verve Ventures, Front Row also nabbed the Ridley Scott-produced horror thriller The Twisted, directed by Olatunde Osunsanmi and starring Teresa Palmer.
UK deals
The company also secured several deals with UK sales companies. From Protagonist Pictures, Front Row has acquired The God Four, starring Michael Douglas, Jai Courtney and Natalie Dormer; Clio Barnard's thriller Dark River and Michael O'Shea's vampire tale The Transfiguration, which premiered in Un Certain Regard.
The company also bolstered its relationship with Embankment Films, sealing deals for Andy Serkis's Breathe, starring Andrew Garfield as a man paralyzed by polio who sets off on a round-the-world trip with his wife, played by Claire Foy; Kate Maberly's fantasy adventure The Forest Of Hands and Teeth, starring Maisie Williams; Simon Baker's Australian coming-of-age drama Breath; Ron Scalpello's bare-knuckler boxer drama My Name Is Lenny; and documentary Ferrari: Race To Immortality.
Front Row also acquired Yorgos Lanthimos's The Killing Of A Sacred Deer, starring Colin Farrell and Nicole Kidman, from Hanway; and Michael Winterbottom's The Trip To Spain, starring Steve Coogan and Rob Brydon, from Goalpost Pictures.
Front Row has also signed a three-picture deal with Anthony Buckner at Kaleidoscope Films Distribution, which comprises animation The Land Of Sometimes, voiced by Ewan McGregor and David Walliams; horror The Windmill Massacre; and Ben Wheatley-executive produced Tank 432.
US deals
Other deals out of the US, included animated feature Seal Team from Cinema Management Group; war drama The Fixer, starring Melissa Leo and James Franco, from Mongrel International; and upcoming fairytale trilogy A Mermaid's Tale, My Unicorn andPony With A Broken Wing from Jamie R Thompson's Lighthouse Pictures.
Front Row also picked up Wigwam Films' Farsi-language horror sensation Under The Shadow, directed by Babak Anvari, from XYZ Films. It will release the title theatrically and on VOD before its worldwide release on Netflix.
Gianluca Chakra, managing Partner at Front Row Filmed Entertainment, said the strategy was in keeping with the company's efforts to keep up with changing viewing habits in the region.
"While continuing to focus on theatrical titles, we also need to observe the way the business of film is quickly shifting," he said. "Other than Netflix and StarzPlay, SVOD platforms are mushrooming in the region."
Arabic film-makers
Front Row works with Kuwait National Cinema Company (KNCC) to co-acquire 90 to 120 titles a year.
Hisham Al Ghanim, a partner at Front Row and general manager of KNCC, said that aside from their Cannes acquisitions, they continued to work with Arabic film-makers.
"We're finalizing more titles for our Arabic and local division with key Arab producers," he said.
"We need to encourage the Arabic film industry as a whole and build a sustainable model for it to survive."
Front Row recently helped close a worldwide deal with Netflix on critically acclaimed Lebanese hit Very Big Shot, directed by Mir-Jean Bou Chaaya and produced by Kabreet Productions.
Front Row's upcoming releases include Blood Father starring Mel Gibson, Oliver Stone's Snowden, Ben Wheatley's Free Fire, local action comedy Abou Shanab, starring Egyptian superstar Yasmine Abdel Aziz, and Andrea Arnold's American Honey, which won Cannes' Jury Prize.
Launched in 2003, Front Row is a leading independent film distributor in the Middle East and North Africa, based in Dubai with offices in Kuwait and Lebanon.