New projects from Rook Films' Andy Starke and Paz Brothers [pictured] among first wave of projects unveiled for sixth edition of Fantasia's co-production market.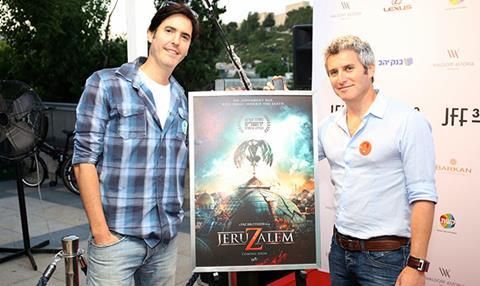 Frontières International Co-Production Market will include TV shows for the first time at its upcoming edition.
Following its third European edition at the Brussels International Fantastic Film Festival (BIFFF), Frontières returns to Fantasia International Film Festival for its sixth edition, running July 21-24 in Montreal.
The first wave of projects announced include two TV series: House Of Psychotic Women and Untold Horror.
House Of Psychotic Women is based on the book by Canadian author Kier-La Janisse, who will also produce alongside Rook Films' Andy Starke (Sightseers, The Duke Of Burgundy). Sean Hogan has written the pilot episode.
Untold Horror from Rue Morgue magazine editor-in-chief Dave Alexander will be an eight-part documentary series about the greatest horror movies never made. Directed by Bob Barrett, the series is written by Alexander and Mark Pollesol.
New projects from Jeruzalem's Yoav and Doron Paz, Let Us Prey's Brian O'Malley and The Wild Hunt's Alexandre Franchi are also among the projects to be presented at the upcoming edition.
In partnership with the Imagine Film Festival (with support from the Netherlands Film Fund), Frontières has also selected Imagine's Pitch Contest winner, The Profundis from Frankenstein's Army director Richard Raaphorst.
The complete project line-up for the sixth edition of the market will be announced in the first week of June.
Frontières Day takes place on Sunday [May 15] in Cannes to introduce the recently announced partnership between Frontières and the Marché du Film. Events include a work-in-progress presentation and a Canadian-Genre VR presentation.
Established in 2012 by the Fantasia International Film Festival, Frontières 2016 is a collaborative initiative between Fantasia, BIFFF and Vision-in-Motion. It is supported by Creative Europe, Telefilm Canada and SODEC.
First fave of Frontières projects
Brain Freeze (Canada)
Dir/Wri: Julien Knafo
Prod: Barbara Shrier (Palomar)
Darius (Canada)
Dir/Wri: Alexandre Franchi
Prod: Ménaic Raoul, Alexandre Franchi, Gabrielle Tougas-Fréchette (Voyelles Films / Les Films de la Mancha)
House Of Psychotic Women (UK) *Series
Dir: Various TBA
Wri: Sean Hogan (pilot episode), Kier-La Janisse (book)
Prod: Andy Starke (Rook Films), Kier-La Janisse
Mars Camp (USA/Israel)
Dir: Yoav and Doron Paz
Wri: Yoav and Doron Paz, Lauri Donahue
Prod: PAZ Films, Epic Pictures
The Profundis (Netherlands)
Dir/Prod: Richard Raaphorst
Wri: Shane Berryhill, Richard Raaphorst
Room Service (USA)
Dir: Yedidya Gorsetman
Wri: Mark Leidner, Yedidya Gorsetman
Prod: Josh Itzkowitz, Matthew Smaglik, Mark Leidner
Soulless (Ireland)
Dir: Brian O'Malley
Wri: Tony Philpott
Prod: Brendan McCarthy, John McDonnell (Fantastic Films)
The Squall (Canada)
Dir/Wri: Jason Krawczyk
Producer: Zach Hagen (Alternate Ending Studios)
Striguni (Croatia)
Dir/Wri: Aldo Tardozzi
Prod: Barbara Jukopila, Damir Ibrahimovic (Ziva produkcija)
Untold Horror (Canada) *Series
Dir: Bob Barrett
Wri: Mark Pollesel, Dave Alexander
Prod: Bob Barrett, Dave Alexander, Kevin Burke, Andrea Butler (Post No Joes Productions)