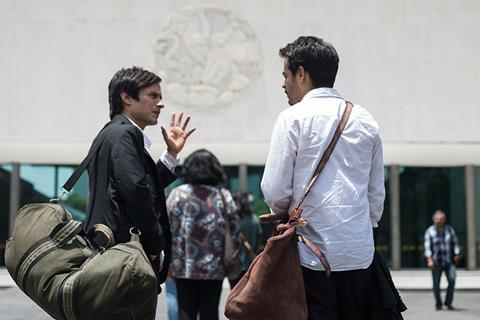 Signalling its ambitions to build a global entertainment platform, YouTube has acquired Alonso Ruizpalacios' Museo starring Gael García Bernal and Leonardo Ortizgris as its first Spanish-language YouTube Original film ahead of the Mexican heist saga's North American premiere at TIFF.
YouTube global head of original content Susanne Daniels and her team will regard Museo, which screens to press and industry on Thursday (September 6) and receives its North American premere on September 11, as a prestige catch as the platform rolls out across the world. The film premiered in Berlin where it earned Ruizpalacios and Manuel Alcalá the Silver Bear for best screenplay.
Ruizpalacios' second feature after the acclaimed Güeros – winner of multiple honours including the 2014 Berlinale best first feature award and Mexico's best film Ariel Award in 2015 – is inspired by the theft of 140 Mayan and Meso-American artifacts from Mexico's National Anthropology Museum on Christmas Eve 1985.
Bernal and Ortizgris, who starred in Güeros, play hapless friends who pull off the heist against all the odds, only to discover that selling their ill-gotten gains is a far harder proposition. Alfredo Castro stars as the father of one of the young men, while Simon Russell Beale portrays a dealer of rare artifacts.
Gerardo Gatica, Alberto Müffelmann, Alcalá, and Ramiro Ruiz produced, while Moisés Cosío, Bernal, Anant Singh, Brian Cox and Robert Lantos served as executive producers.
Panorama Global, Ring Cine, Detalle Films, Distant Horizon and Serendipity Point Films co-produced and co-financed Museo, which will launch in US theatres in the autumn through Vitagraph Films, followed by YouTube Premium later in the year. Serendipity Point will distribute in Canada.
Subscription service YouTube Premium currently serves the US, UK, Canada, Mexico, Australia, New Zealand, South Korea, Ireland, Germany, Austria, France, Italy, Spain, Sweden, Norway, Finland, Russia, Denmark, Netherlands, Belgium and Luxembourg.
"Museo began over a decade ago, with a faint memory of a Christmas museum heist in the 80s," said Ruizpalacios. "Research and word of mouth quickly laid out a vast story that spread far beyond Mexico's National Museum of Anthropology.
"It had the perfect mix of narrative and anecdotal elements and I'm incredibly excited to collaborate with the talented Gael Garcia Bernal and YouTube to bring this Mexican tale to life and share it with the world."
"Museo is one of the many exciting projects we have in the pipeline as we embark to expand our slate with more original series and movies in Spanish," said Daniels. "We are extremely grateful to be working with such a talented cast and creative group of producers and executive producers to share this story globally as one of our first-ever Spanish language YouTube Original movies."