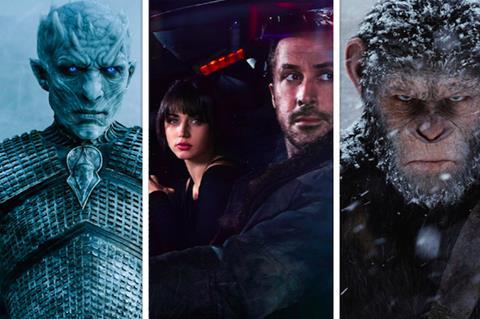 Blade Runner 2049 and War For The Planet Of The Apes earned seven feature nominations apiece from the Visual Effects Society (VES) on Tuesday (January 16), while Game Of Thrones picked up the most individual nods as the leading TV contender on 11.
Nominees for Outstanding Visual Effects in a Photoreal Feature for the 16th annual VES Awards are Blade Runner 2049, Guardians Of The Galaxy Vol. 2, Kong: Skull Island, Star Wars: The Last Jedi, and War For The Planet Of The Apes.
Game Of Thrones takes its place on the list of Outstanding Visual Effects in a Photoreal Episode for the episode Beyond The Wall, alongside Agents Of S.H.I.E.L.D.: Orientation Part 1; Legion: Chapter 1; Star Trek Discovery: The Vulcan Hello; and Stranger Things 2: The Gate.
Despicable Me 3 leads the animation feature contest with five nods and will vie for the Outstanding Visual Effects in an Animated Feature prize with Captain Underpants, Cars 3, Coco, The LEGO Batman Movie, and The LEGO Ninjago Movie.
The remaining 22 categories include outstanding and supporting visual effects in animation, commercials, and special venue projects. Click here for the full list.
The awards ceremony will take place on February 13 in Beverly Hills. The VES George Melies Award will be presented to Oscar-winning visual effects artist Joe Letteri. Producer, writer, and director Jon Favreau will be honoured with the VES Lifetime Achievement Award.
"The artistry, ingenuity, and passion of visual effects practitioners around the world have come together to create truly remarkable imagery in a variety of media," Mike Chambers, VES chair, said.
"We are seeking best in field work that elevates the art of storytelling and engages the audience in new and innovative ways. The VES Awards is the only venue that showcases and honours these outstanding artists across a wide range of disciplines, and we are extremely proud of all our nominees!"