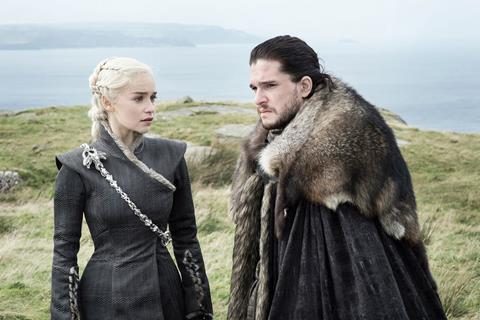 HBO came away with 25 awards – just ahead of Netflix's 23 – from the weekend's two ceremonies for the Creative Arts Emmy Awards, precursors to next weekend's main Emmys awards night.
HBO's Game Of Thrones was the big winner among individual series, taking a total of 10 awards over the two ceremonies, held on Saturday (September 14) and Sunday (15) at the Microsoft Theater in downtown Los Angeles. The series' haul included awards for stunt coordination, fantasy/sci-fi costumes, special visual effects, and sound editing.
HBO's Chernobyl mini-series, co-produced with the UK's Sky, also made a strong showing on seven awards, including the cinematography prize for a limited series or movie.
National Geographic's Oscar-winning documentary feature Free Solo took seven awards, including those for non-fiction programme direction, cinematography, sound editing, sound mixing, picture editing, and music composition.
SundanceTV's State Of The Union, produced by the UK's See-Saw Films, took three prizes: outstanding short form comedy or drama series, and best short form acting awards for Chris O'Dowd and Rosamund Pike.
Fleabag, screened by Amazon in the US but made by Two Brothers Pictures for the BBC in the UK, took awards for single camera picture editing and casting in a comedy series.
Among the acting prizes included in the Creative Arts ceremonies, the best guest actor and best guest actress awards for a drama series went to Bradley Whitford and Cherry Jones, both for The Handmaid's Tale. Because of a quirk in Emmy rules the Hulu show is eligible this year for guest acting prizes, but not awards in the main categories.
Most of Netflix's awards went to animated series Love, Death & Robots, unscripted show Queer Eye, and comedy series Russian Doll.
The Creative Arts ceremonies leave the battle for Emmy bragging rights finely balanced going into the main ceremony at the Microsoft Theater next Sunday (22), when winners in the big categories including best drama and comedy series will be revealed.
When nominations for this year's Emmys were announced in July, HBO led with 137, topping the 117 scored by its streaming rival Netflix. Game Of Thrones earned a record 32 nods, beating the single-year nomination total set by NYPD Blue a quarter of a century ago.
For the full list of Creative Arts Emmy winners click here.