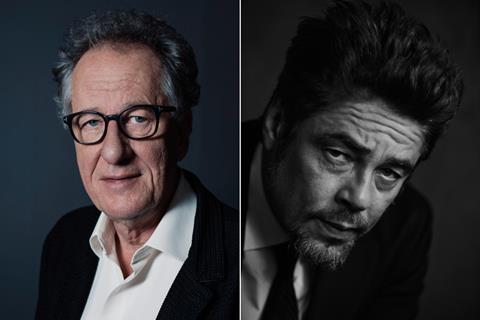 Oscar-winning actors Geoffrey Rush and Benicio del Toro will receive special honours at this year's Karlovy Vary International Film Festival (KVIFF), which runs from July 1-9.
Rush will receive the Crystal Globe for Outstanding Artistic Contribution to World Cinema, an award previously given to talents including John Travolta, Ken Loach, Julianne Moore, Patricia Clarkson and last year's awardee Michael Caine.
Del Toro will receive the President's Award, which last year was given to Ethan Hawke.
KVIFF will play a selection of films featuring the two men during the festival: The King's Speech, Quills and Shine for Australian actor Rush, and Traffic and The Usual Suspects for Puerto Rican actor del Toro.
Both actors will receive their awards during the closing ceremony on Saturday July 9.
Juries, world premieres
The 56th edition of the festival will play over 160 films across features and shorts, including 34 world premieres, with 13 sections in total.
The festival has also selected its juries for the Crystal Globe and Proxima awards.
The Crystal Globe jury is comprised of Argentinian producer Benjamin Domenech, German filmmaker Jan-Ole Gerster, Polish distributor and festival organiser Roman Gutek, France-based sales agent and producer Fiorella Moretti, and Danish editor and screewriter Molly Malene Stensgaard.
On the Proxima jury are Ukrainian director Myroslav Slaboshpytskiy, Filipino producer Bianca Balbuena, Icelandic documentarian Yrsa Roca Fannberg, Czech filmmaker Pavel Klusak and US distributor Michael Rosenberg.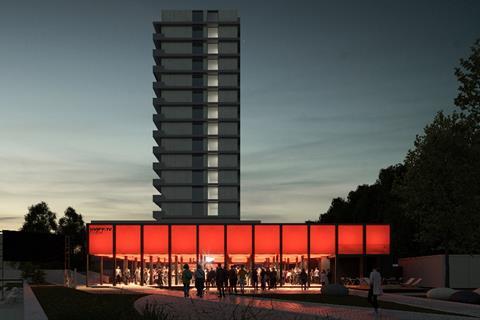 The festival has set up KVIFF.TV Park, a new venue for public events including audience contests and filmmaker discussions. Designed by Chybik+Kristof Archtects & Urban Designers, it is located alongside the main Hotel Thermal venue, and was inspired by that building's shape.
KVIFF announced its Eastern Promises industry events last week, with highlights including a nine-project feature Works in Development slate, a presentation of the latest KVIFF Talents for emerging filmmakers, and a discussion on the impact of the war in Ukraine on the international industry.