Distributor now handles home entertainment rights as well as theatrical on Japanese studio titles.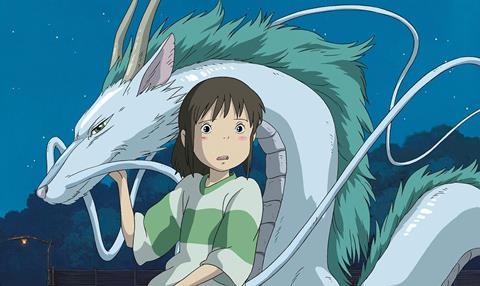 GKIDS has announced it is partnering with Studio Ghibli to distribute the Japanese animation studio's home video catalogue in North America.
Starting on October 17, GKIDS will reissue Blu-ray and DVD editions of Studio Ghibli's films and kicks off with six titles from Oscar-winning director Hayao Miyazaki.
The initial six Miyazaki titles are Howl's Moving Castle, Kiki's Delivery Service, My Neighbor Totoro, Ponyo, Princess Mononoke, and Spirited Away (pictured), followed by Castle In The Sky and Nausicaä Of The Valley Of The Wind on October 31.
The remaining titles, which include Hiroyuki Morita's The Cat Returns and Tomomi Mochizuki's Ocean Waves, will be reissued in the coming months on Blu-ray and DVD.
The home video partnership builds on the relationship between GKIDS and Studio Ghibli. GKIDS has handled theatrical rights for the catalogue since 2010.
GKIDS released the studio's recent films From Up On Poppy Hill, The Tale Of The Princess Kaguya and When Marnie Was There, as well as the previously unreleased Only Yesterday and Ocean Waves.
As previously announced, GKIDS, in partnership with Fathom Events, is bringing six Ghibli titles back to theatres nationwide with Studio Ghibli Fest 2017.
Kiki's Delivery Service will play on July 23 and 24, in both dubbed and subtitled versions at approximately 600 theatres.
"GKIDS is absolutely thrilled and honoured to be the home of the treasured Studio Ghibli catalogue," GKIDS CEO Eric Beckman said. "These are among my favourite films of all time and we are more than excited to be able to introduce these films to new audiences."