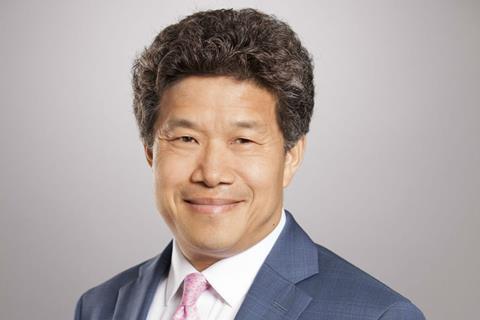 Staff at beleaguered Los Angeles-based Global Road are likely to be told about lay-offs on Tuesday, Screen understands.
The move was expected and comes after Screen first reported last week that the banks, led as it subsequently emerged by Bank Of America, had taken control of the company as the financial status of its domestic theatrical feature division deteriorated.
Donald Tang (pictured) of owner Tang Media Partners struggled to raise money earlier in the year, and 10 months after launch, Global Road has laboured at the North American box office. A disappointing record on the likes of Hotel Artemis and Show Dogs has been compounded by its latest release, the family adventure A.X.L., which debuted at the weekend in tenth place on a paltry $2.8m from 1,710 theatres.
What will not have helped matters on top of the capital-intensive demands of running a US distribution operation are the overheads required to pay for a staff believed to number more than 100 and a heavyweight executive suite led by CEO Rob Friedman, alongside fellow industry veterans Jack Pan, Global Road's marketing chief, and Lynn Harris, the president of worldwide production.
The company's representatives insisted lay-offs were not mentioned last week when management told staff about the banks taking control, however redundancies were always on the cards as the company faces possible bankruptcy. In a bid to avoid that eventuality, it is understood Global Road's lenders are pushing for lay-offs and may be ordering management to offload City Of Lies – the Johnny Depp crime drama that was pulled from the release schedule ostensibly due to fears over the troubled star's declining appeal – and horror title The Silence, which had been scheduled for release on December 7.
While it is understood the international sales and the TV division remain viable operations, the demise of the domestic feature business offers a stark reminder of the ongoing difficulties facing the US distribution sector heading into the fall festival season, when much will be riding on the outcome of carefully planned release strategies, and a number of acquisition titles will be up for grabs.
Alarm bells at Global Road first sounded when it emerged the company was withdrawing City Of Lies. Subsequent news of Tang's failed cash raise indicated deeper issues were at play, before it emerged that the banks had taken control.